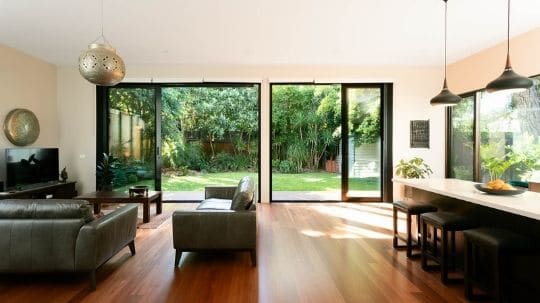 The calming kitchen
The need for calming spaces in our homes has increased more than ever before since the start of the pandemic. With many of us working from our home, our personal space has an important role to play in helping us feel at ease. The kitchen is an ideal space to tailor into a tranquil, stress-free zone.
The idea of calming spaces and reconnecting with nature are almost synonymous. Opting for green hues is a significant start to help bring about an organic and natural ambiance. Muted blues and greens, warm woodgrain, as well as soothing, pale pinks promote a sense of positivity and calms the mind. Speak to your custom home builders about incorporating these colours into either your cabinets, panels, tiles or doors. A gentle mix of soft and natural colours can be used to create a relaxed atmosphere in your kitchen.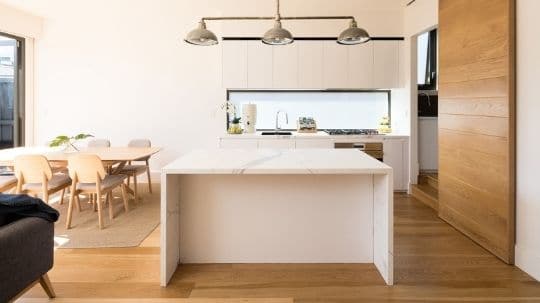 The natural charm
Following closely from a calming space, yet completely distinguishable on its own, is the kitchen with a natural charm. Possessing an elegant, luxurious feel, are countertops and surfaces that are similar in appearance to natural materials. These include stone, timber, marble, concrete and terrazzo. These trusted options are heat resistant, come in a variety of shades and add a dash of opulence to your colour palette. The one aesthetic feature that arguably stands out the most is that they are timeless – in a decade or two from now, your kitchen will still have its original charm and natural beauty intact. Exploring the world of tiles also offers plenty of freedom to achieve an immersive natural theme. From wood and stone to textured tiles, each option has an exclusive trait that adds soul and solace to your space.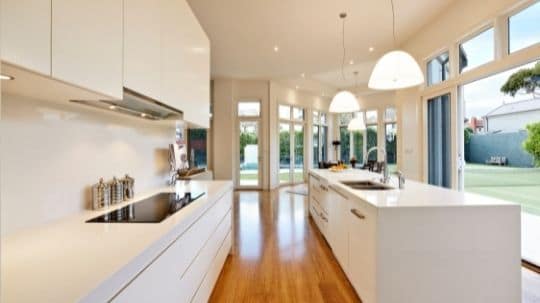 Old school glamour
Out with the old, in with the new? Not this time. Nostalgic decor elements such as warm metallics and touches of gold in cabinet hardware remain prevalent and stand the test of time. They cautiously forge a sense of refinement and sophistication that instantly makes you feel at home. Add a graceful touch of brushed gold handles for an understated yet classic finish. Alternatively, for a distinctive look, go bold with rose pink cabinetry. Bold colours pair beautifully with stone, marble and shades of grey when drawing out the essence of traditional elements in a modern setting.
Read more: Bathroom trends 2022 in Australia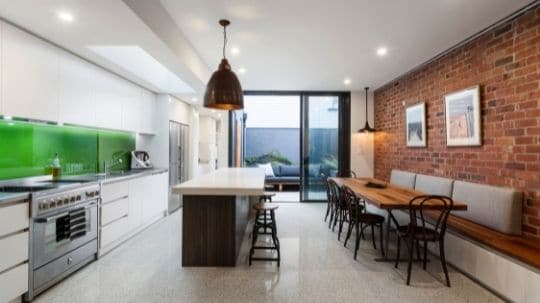 Simplicity and organisation
Those with a love for orderliness will be delighted to know that being neat is still in fashion. An uncluttered and organised space effortlessly puts your mind at ease. By making a designated place for each utensil and appliance, you instantly free up your countertops and shelves. This clean space makes your kitchen appear more spacious, neat and harmonious. A quick and easy starting point is to look into storage solutions that are simple yet functional. Kitchen drawer organisers are a firm favourite that require little effort to maintain order. Play your part in sustainable recycling with pull out bins that allow you to separate your waste while keeping unpleasant odours at bay.