Building custom new homes, designed for you.
While extensions and renovations is where it all began for Spacemaker, we are also custom home builders known for constructing quality, value-for-money custom designed new homes for clients who want a stress free experience with one of the most reputable builders in Melbourne.
Drawing on over 50 years of tradition, Spacemaker has a firm reputation for quality and award-winning design and construction projects across Melbourne. Amongst the many awards and accolades we have received for our homes, one of our recent custom-built homes in Port Melbourne went on to win the Master Builders Victoria (MBA) Best Custom Home between $1-$2 million.
We have also built custom homes in many other prominent suburbs around Melbourne including East Malvern, Ivanhoe, Glen Iris and Ashburton, to name just a few.
Expert custom house builders in Melbourne. Our passion lies in building homes our customers love.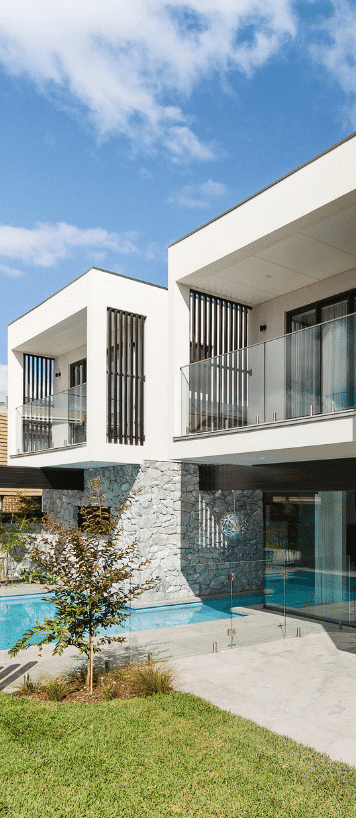 For a place that's distinctively yours, consider a custom home builder
While extending and renovating your existing dwelling is generally the easier option and better value for money, the decision to build a custom new home can sometimes be the sensible path forward.  If you are unsure whether the best option is to construct a new home or embark on a custom house renovation and extension, our experienced design team will guide you in the right direction.
Custom new homes can be invigorating. You are in the driver's seat, selecting the type of materials, quality, design and energy efficiency you've always wanted – in a location of your choice.
Not only do custom new homes let you hold the reins when it comes to making decisions, the ultimate result will be uniquely created to suit you and your family's preferences and lifestyle needs. It's the personalised touches in a space designed from scratch that make it truly your home.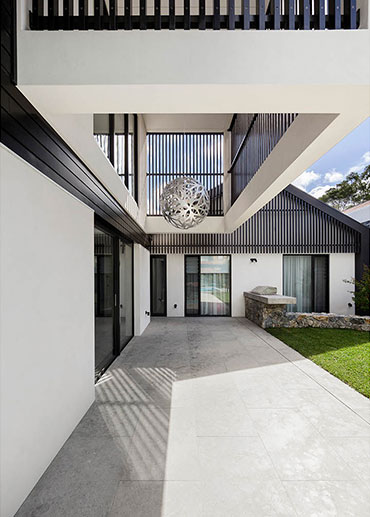 What are the benefits of custom-built new homes?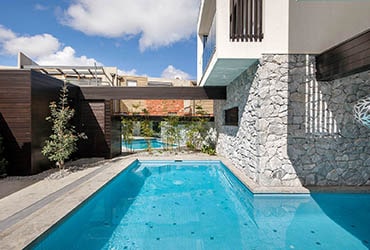 1. Tick your own boxes
Imagine having a say over every single detail of your future home from the layout and lighting to custom appliances and architectural flourishes. With a custom new home, you'll have your say on the fixtures, flooring, custom cabinetry and the amount of natural light you prefer, to name just a few examples of the design choices you will influence along the way. With the amount of customisation available to you, you will be rewarded with a level of personal satisfaction that can be hard to come by with higher volume builders that focus primarily on pre-designed homes built off the plan. With a custom built new home, the opportunities to integrate bespoke elements that are suited to your tastes are limited only by the imagination.
2. Build a home unique to your lifestyle
No matter what stage of life you may be in, your lifestyle is truly unique to you and your family. A custom home builder can provide you with the flexibility you will need to tailor your home to suit your personal needs, rather than changing your life to adapt to your home. Through clever design and construction techniques that customise your new home to specifically suit you and your family's needs, we can help to improve the quality of your life by creating more space for you to thrive, exactly where you need it.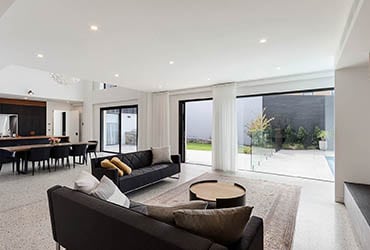 3. Maximise resale value
Although many of our clients choose to build custom homes with the intention of living there longer-term, our custom built new homes are also a great investment, as a quality home with unique character and charm is often more appealing upon resale than lower budget project homes. If you are intending to build a custom new home with a plan to sell in the future, we can help you to make the right home design choices that will contribute to higher resale value longer term.
4. Honour your signature style
When it comes to a fully customised home, after achieving regulatory compliance, there's no compromising on the aesthetic or style as everything is designed to your taste. Remember there's no right or wrong, no matter how conventional or innovative. You're in creative control. It's your opportunity to work with a custom home builder to literally create the home of your dreams, starting with a blank canvas.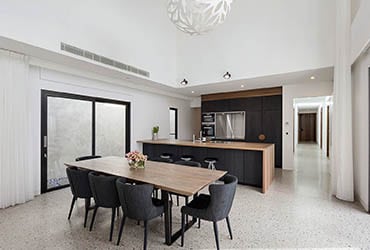 5. Save money in the long term
When engaging Spacemaker as your design and build professional, we'll guide you in the most cost-effective way to achieve your desired home.  In some instances, renovating or extending simply isn't the way to proceed for the best financial outcome, and we'll let you know if this is the case. If a custom new home is recommended by us, or if it is your preferred option, it may initially cost more upfront, but the long-term benefits may be worth the outlay.
6. Energy efficiency at the core of the build
Our customers are becoming increasingly conscious of their carbon footprint and are making more frequent decisions about building more sustainable and energy-efficient homes accordingly. A custom built home can help to maximise energy efficiency and reduce emissions through well thought-out passive design.
The use of the free energy in the sun and wind allows you to minimise, or sometimes even eliminate, the need for mechanical heating or cooling. Clever passive design can also be achieved through orientation of the home, positioning of windows, wise choice of building materials, water-saving devices, solar panels, smart technology, quality insulation and a range of energy-saving mod cons. These inclusions can have massive benefits, financially, for the planet and our children's futures.
Why is a custom built home right for you?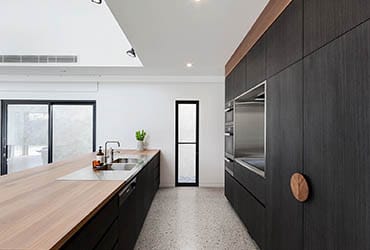 1. You want to build your dream home
For many people, building a custom home is a once in a lifetime experience and the only way to achieve the dream home they've always wanted. Whether it is a custom new home, a custom house extension or renovation, being involved together as a family when creating your new home is an exciting and memorable experience. Doing something so unique for yourself and your family creates a special bond. If you are tired of compromising on your family's needs and ready to build the home you have always dreamed of, a custom built new home may be right for you. Talk to us about the options best suited to your property.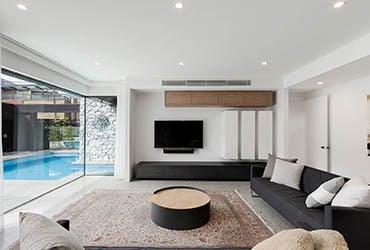 2. You want to influence the design
Building your home from the ground up and having 360-degree involvement in this important project allows you to be deeply invested in it from day one. You'll work with Spacemaker's design team as your custom home builder of choice throughout every stage of the building process. This means you have the freedom to influence the home design before construction begins to reflect your wishes from the inside out. Whether it's an outstanding kitchen and living area, an alfresco area for entertaining, a special kind of flooring or even a swimming pool or on-site gym, it's the special extras that will enable us to bring your dreams for a perfect house to life.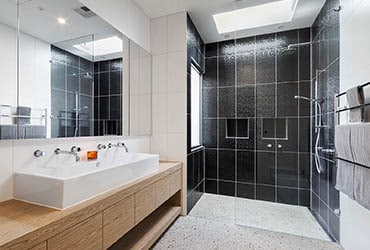 3. You love the location
You've found that perfect parcel of land in an area that you love, meaning that it's finally time to build your dream abode and make this your home for life. Consult with Spacemaker Home Extensions to ensure the land you choose is suitable for the home you have in mind. You may wish to enjoy certain vistas, share the land with others in a community-type setting, or have so much privacy that your home becomes a sanctuary away from the world. By contacting our design team early, you can take advantage of the many years of experience we have in custom home design and construction to ensure you are set in the right direction from the very beginning.
What is Spacemaker's process as a quality custom home builder?
Using a simple 6-step process, we work extensively with our clients from the initial concept stage through to final execution. 
As experienced design and construct builders, our designers and construction team are experts at handling briefs for custom new homes of all shapes and sizes. The common denominator at all times is a focus on great results.
Our 6-step process involves:

Step 1 – A home visit:
We come to your home to discuss your family's needs and the key motivations you have in mind for your custom home build. We provide you with some creative inspiration and speak with you about how we may be able to achieve your goals, along with explaining the process and providing you with an indicative budget for the type of build you have in mind.

Step 2 – Concept:
We visit the site for your new home and prepare 3D drawings and a concept plan for you to consider. We also prepare a formal estimate and discuss what would be involved to deliver the project.

Step 3 – Detailing:
When you are happy with the designs, a draftsperson, engineer and estimator will visit you to further discuss and prepare the detailed project specifications and plan.

Step 4 – Budget:
We provide you with the final fixed price quotation based on thorough site investigation and in-depth discussions with you about your needs and goals for the project from the very beginning.

Step 5 – Permits:
We communicate with your local council and handle the building and town planning processes when they are required. At this point, we draw up your contract and both parties sign before commencing with your custom home build.

Step 6 – Experience:
Once on site, our experienced tradespeople and project managers work diligently to deliver a low-stress home build experience, keeping your overall satisfaction with the project in mind at all times.
Working with Spacemaker as your custom home builder to manage the entire project from concept to construction completion gives you better control, communication and flow while building your new home – that's what our clients always tell us. Our clients trust us, which is evident from the many referrals we receive from our customers, along with the high number of clients that have returned to Spacemaker to renovate, extend and build second and third homes with us. We'd be delighted to have you join the Spacemaker family and help bring your vision to life.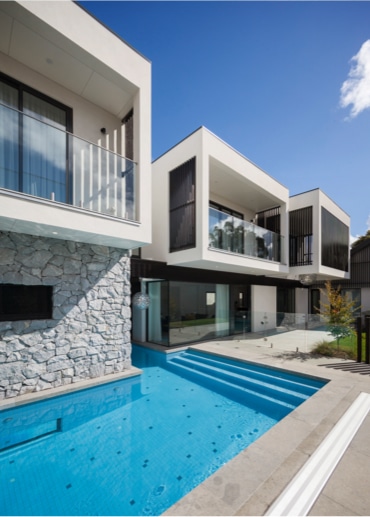 The best testimonial for Spacemaker that we can give is the fact we are already looking for potential properties to renovate so we can repeat the fantastic experience we had with Tim and his team!
Frequently Asked Questions
The price for a custom home build varies per square meter based on several different factors including the site conditions, overall design requirements, the fixtures, fittings and materials selected, town planning permits that may be required for your property, seasonality and availability of products from suppliers. At Spacemaker Home Extensions, the cost per square meter for a custom home build starts at $3,000.
A custom house extension is often more affordable than building a new custom home from the ground up. In many cases, a custom home extension leverages the existing foundations of the home to form the basis of the project. Many variables influence the overall investment required for an extension project, including the location of the home, design, the materials used, the size of the extension project, seasonality and availability of materials from suppliers. We specialise in custom extensions and renovations ranging between $150k and $2m. Talk to our design consultants about the ideas you have in mind and we can formalise an estimate for you based on your unique circumstances and the vision you have for your home.
Generally speaking, it is usually more expensive to build a custom designed home than it is to build a home off the plan. Homes that are built off the plan are usually designed and constructed using cheaper alternatives for construction. The use of waffle pods instead of raft slabs is one example of this. Similarly, the use of specific products, fixtures and fittings from specific providers is also common practice, with these products sometimes being determined on price rather than quality. These are often ordered in bulk and are therefore accessible at significantly reduced prices that result in lower overall costs for homeowners. Although there are some advantages to building a new home off the plan, there are just as many drawbacks and limitations when it comes to customisation and flexibility. If quality rather than cost is your preference and you are looking for a distinctive home design with design and functional aspects that are unique only to you and your family, a custom built new home may be the best option for you. 
It's time to sit down with Spacemaker's design team. Take the time to speak with our designers who will begin the exciting design process. We'll show you our portfolio of projects and together, we can start to create that perfect custom home that meets your brief and your budget.