7 most popular interior design bathroom trends across Australia right now.
With many of us spending more time at home than ever before, we are desperately seeking ways to create our own sanctuary at home. A bathroom can provide a much-needed retreat from our busy lives and offer a space to fully restore, relax and unwind.
From adding textural elements to creating your own spa-like haven at home, here are seven of the hottest bathroom trends of 2022 to inspire your next bathroom makeover.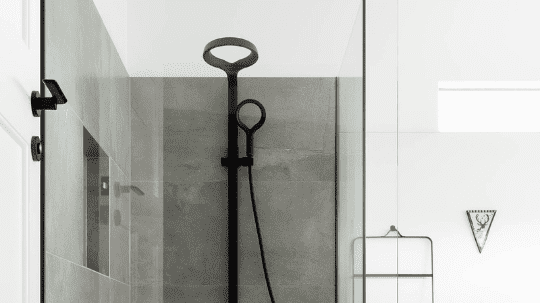 Future-proof bathrooms
House design trends in 2022 are all about blending practicality with architectural ingenuity and creative interior design. This applies to your next bathroom remodel more than ever!
Future proofing your bathroom may include investing in a walk-in shower or wet room, opting for a raised height toilet or adding in clever bathroom technology such as a sensor flush toilet. These modern and highly practical additions will not only meet your changing needs, they also make your home much more attractive to potential buyers if you decide to sell up and move on in the future.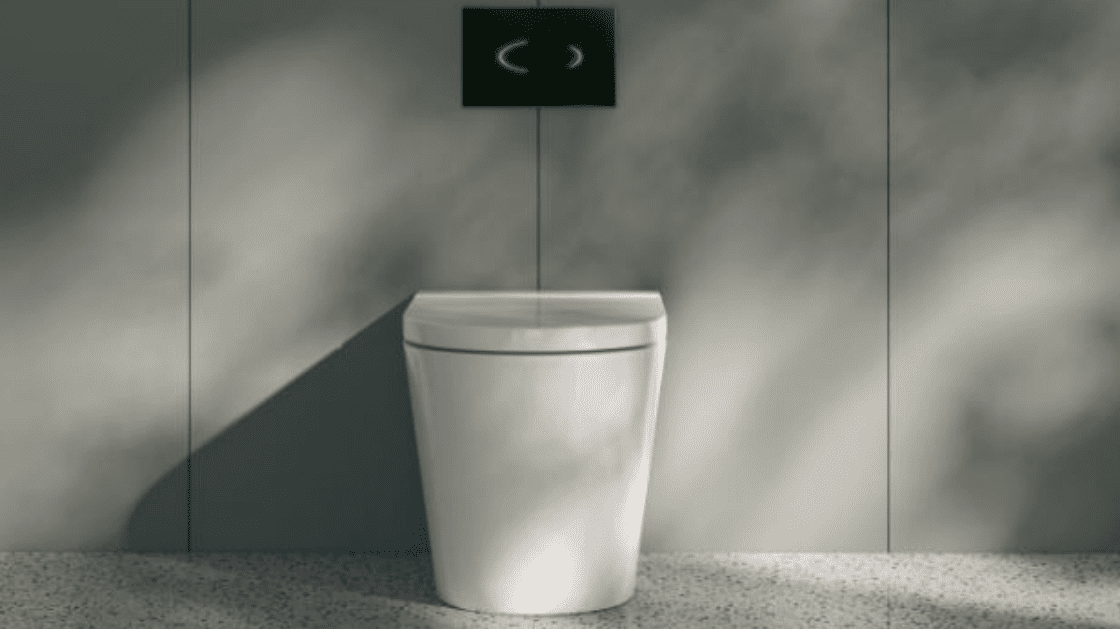 Request a call back to discuss your next project
Trendy tapware
Tapware is no longer just a functional feature; today, tapware is fast becoming a statement piece for any modern bathroom suite. Consumers are realising that carefully positioned tapware can save space while also creating an attractive interior design feature.
Wall mounted taps are a popular way to save space on your vanity, while opting for separate hot and cold water taps can add a vintage element to the overall design.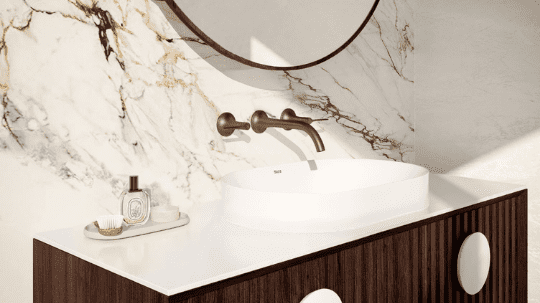 Brushed bronze wall basin set. Image source:
Reece
Durable tapware
While chrome will forever be a staple material for tapware and a great budget option, many consumers are transitioning towards more 'aged' materials that are durable and will not lose their functionality over time. Bronze, brass and brushed nickel will oxidise and naturally tarnish, adding a rustic component to your bathroom, which is not only striking but also creates a timeless look.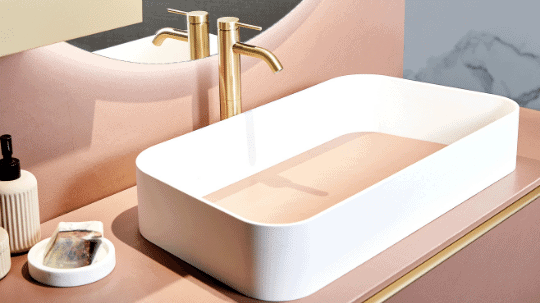 Brushed brass high basin mixer. Image source:
E&S
Coloured tapware
While monochromatic bathrooms with matte black features continue their popularity, the latest bathroom trends are seeing a switch to coloured tapware. Opt for warmer hues such as rose gold to add depth or choose muted tones such as gunmetal grey for an earthier feel. If you have a larger bathroom that can handle bolder colours, be brave and consider a shade that will contrast with the colour of your walls.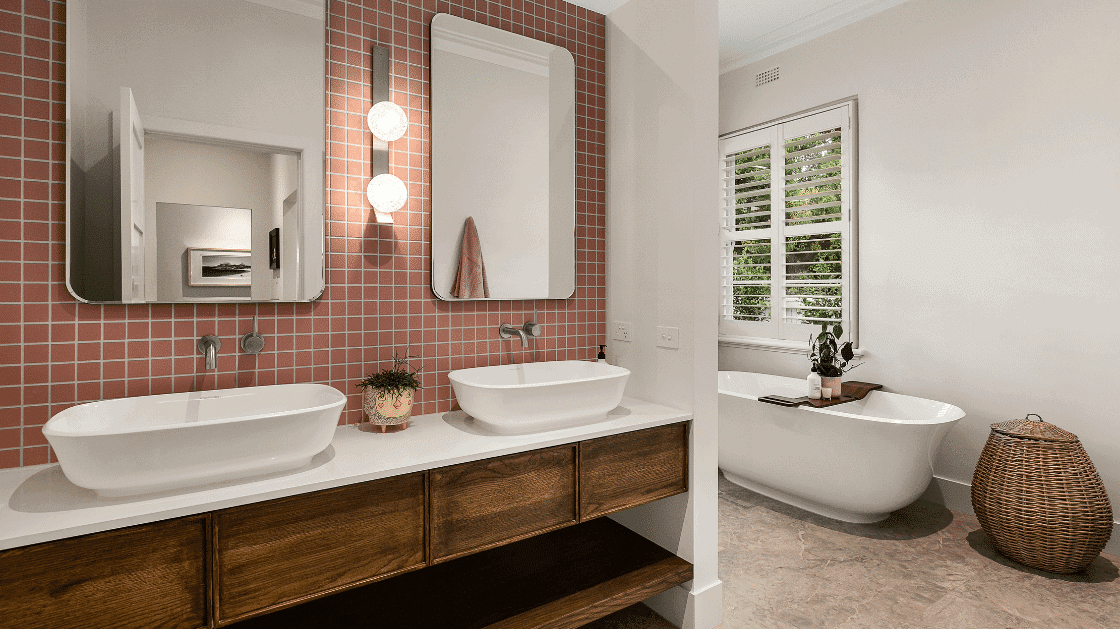 Tactile textures 
Incorporating textural elements is one of the latest bathroom ideas trending in 2022 and is an imaginative way to add great depth to your bathroom.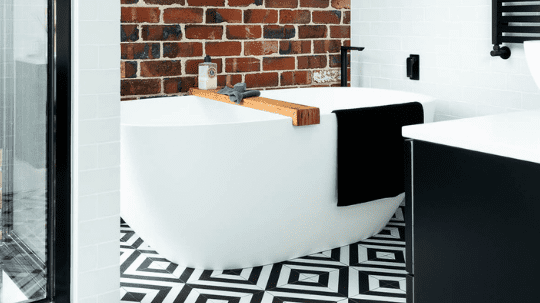 Mix and match textures 
Blending matte and smooth finishes; such as pairing a matte white basin with a shiny black vanity creates a distinctive visual experience, while the addition of a raised grain shower tile paired with a timber planked shower base produces a sensational sensory feel.
Mixing up the textures in a bathroom can add character to the space without overwhelming the room; think stainless steel and natural wood to create a balance between striking yet simple. 
If space is an issue, adding a strip of texture to a wall panel or adding textural elements such as a timber soap dish or patterned towels can be a cost-effective way to add depth to any bathroom.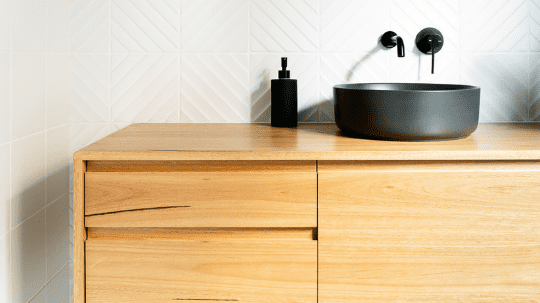 Unfinished wood
Reusing and reclaiming timber is very much in demand in 2022. Not only is it beneficial for the planet but it also adds warmth to the room and allows us to feel more connected to nature. Taking inspiration from Scandinavia and Japan, using teak in bathrooms is a perfect choice due to its natural resistance to rot, while the aromatic cedarwood is ideal for beautiful wooden bathtubs. If your budget doesn't stretch to bath tubs, opting for timber frame mirrors or a timber wall panel are a great option. Be sure to seek advice before using wood in the bathroom as most will need to be sealed to protect it from damp and mould.
Read more: The latest kitchen trends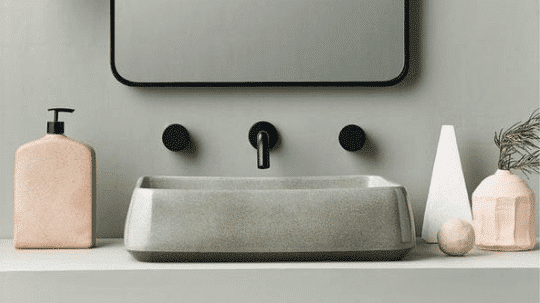 Robert Gordon Saltbush basin. Image source:
E&S
Coloured concrete sinks
Concrete is very fashionable in bathroom trends right now and while traditional concrete may appear cold and harsh, coloured concrete provides an unconventional way to add a pop of colour to a bathroom suite. Picking pretty blue or pink pastel shades can add subtle depth to a bathroom while earthy tones of beige or blonde can add a resort-like feel.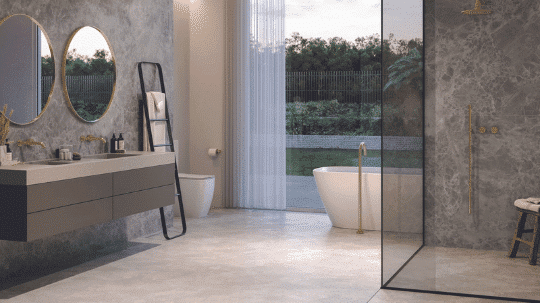 Stone bathroom floor. Image source:
E&S
Stone and wood planked floors
While traditional tiles will be forever popular, timber and stone looking floors are the latest bathroom trend; they offer a great textural feel underfoot and when paired with pebbles or plants, create a spa-like feel to any bathroom.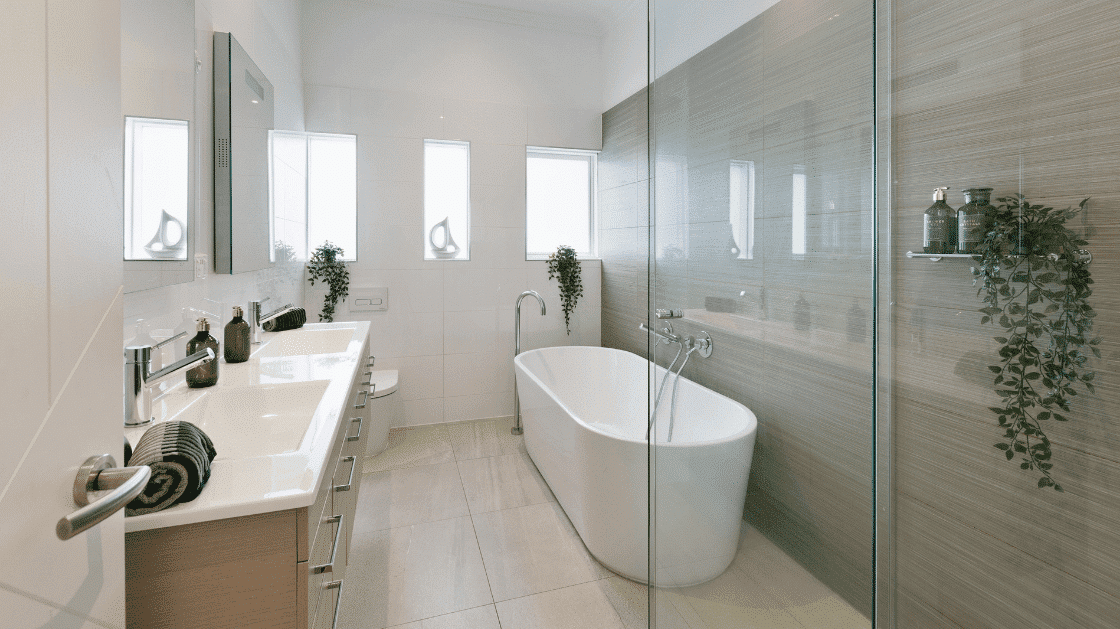 Request a call back to discuss your next project
Showstopper shower trends
With apartment living on the rise and with an increasing number of people becoming more environmentally conscious, modern bathroom designs are favouring showers rather than baths. But don't worry, you do not have to compromise on luxury thanks to the varied range of shower options available.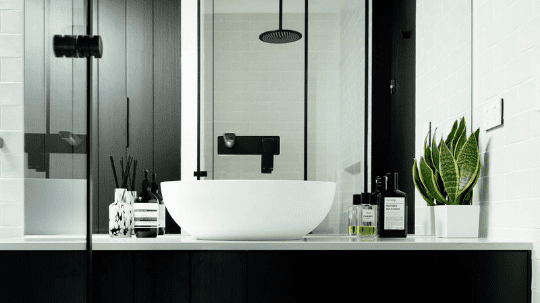 Rain showers, double showers and walk in showers
Forfeiting your beloved bath does not mean you have to compromise on relaxation. Rain showers are incredibly popular right now as they have an unbelievably relaxing effect on the body; the intensive water pressure combined with a jet spray setting which soaks your entire body has incredible hydro-therapeutic effects, easing tension away from those tight muscles. Opting for a dual attachment will enable you to switch between the normal and rain function, bringing you the best of both worlds.
Double showers are a popular choice for those wanting to accommodate two people at once; this can be very convenient for larger families while still keeping a sense of space. Walk-in showers offer greater accessibility, are very easy to clean and allow for an uninterrupted flow of the bathroom. This recent bathroom renovation in Glen Iris is a great example.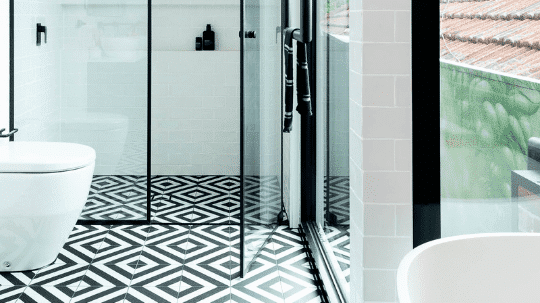 Fluted glass
Say goodbye to ugly old-fashioned shower screens and hello to ultra-sleek ribbed-glass screens and dividers. The ribbed glass adds privacy without compromising on light, while opting to trim your screen with black edging can really make this a statement piece.
Shower benches
Shower benches feature much more in current bathroom designs; they are a convenient way to store your hair and beauty bottles and offer a comfortable seat while you shave your legs! Low level shower benches built into the existing shower wall or floating benches are a discreet way to add more storage, while a portable stool or ottoman style bench adds a contemporary feel to the overall look. Timber and marble shower benches are particularly trendy this year.
Maximising space in small bathrooms
If space is an issue for you, there are a variety of bathroom ideas, tips and tricks you can use to make the room feel bigger, from patterned floors to clever lighting.
Not only are skylights a huge trend for single storey extensions and kitchens right now, adding skylights to a small bathroom is the perfect way to create a greater sense of openness and space. When planning a bathroom remodel, finding ways to allow more natural light in is a great way to feel more connected to the outdoors. What better way to relax than to soak in your tub beneath the stars?
Backlit mirrors have been a bathroom trend for the past couple of years and their appeal continues into 2022. Backlit mirrors not only give the illusion of more light and space, but they add a luxe powder room feel, particularly when mounted to a dark statement wall. Choosing a quirky shape such as an oblong or rectangle can freshen up an otherwise traditional bathroom suite.
While our magic moisturisers can help solve our ageing woes, the addition of extra beauty products often creates a storage problem in our bathrooms. Organiser baskets are not a new solution, but they are experiencing a popular resurgence. Opt for a neutral white to blend seamlessly into the décor or choose a rustic weave basket and let them stand out. 
Natural timber bath caddies offer a convenient place to hold your book or glass of wine when indulging in a long soak and they also offer a practical place to present your towels or a room diffuser if you are short on shelves or cupboards.
In wall toilets are increasingly popular as small bathroom ideas across Australia, especially for smaller bathrooms. They seamlessly blend into the space without sticking out and they have the added advantage of cleverly concealing plumbing. The added bonus is that half of the toilet is in the wall, which means there is only half the exterior of the toilet to keep clean.
Ultra-modern designs
Homeowners no longer view the bathroom as purely a functional feature of the home; the bathroom has become their self-care sanctuary. Being able to relax and unwind in a space that has a deluxe feel, with elegantly appointed details that are practical and yet denote an air of contemporary craftsmanship is a bathroom trend we are seeing more and more across Australia in 2022.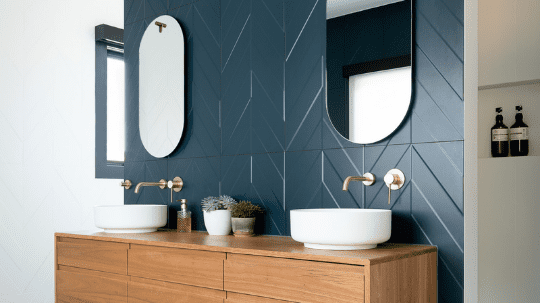 Dark statement walls
Dark statement walls feature significantly in recent bedroom trends as it brings in a sense of greater intimacy and can make an otherwise minimalist room feel cosier. 
Dark statement walls can have the same impact in a bathroom. Opting for colours such as forest green or ash charcoal deliver a dramatic element and pair really well with a backlit mirror or a muted concrete sink and natural wood elements.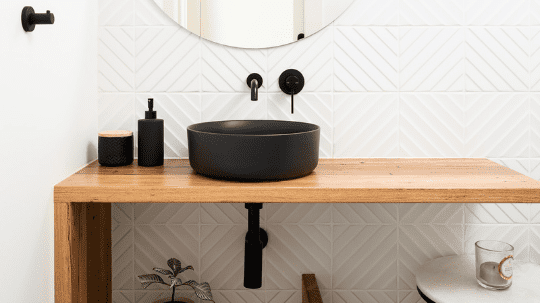 Exposed plumbing
If under-vanity storage is a problem, exposed plumbing can offer a convenient solution. We are beginning to see exposed plumbing in more homes and they have recently featured heavily in the latest kitchen trends. When in front of a neutral black or white tile, exposed plumbing adds a unique retro industrial feel. When paired with a muted concrete sink, brushed tapware and a dark statement wall in modern bathroom renovations, exposed plumbing can create an old-fashioned bathroom ambience with a contemporary industrial feel.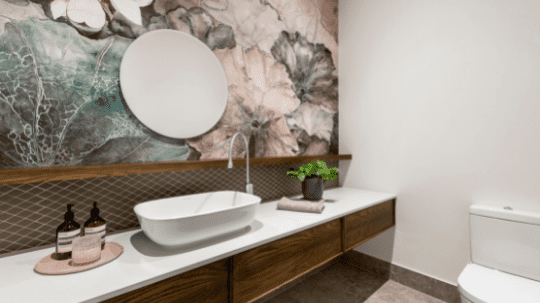 Bathroom art
2022 is the year of modern bathroom art. Think minimalist line drawings mounted on white backgrounds and black frames, natural nude canvases and black and white photographic prints. We are also seeing people use framed coloured and textured wallpaper as an inexpensive way to add a splash of colour to their space.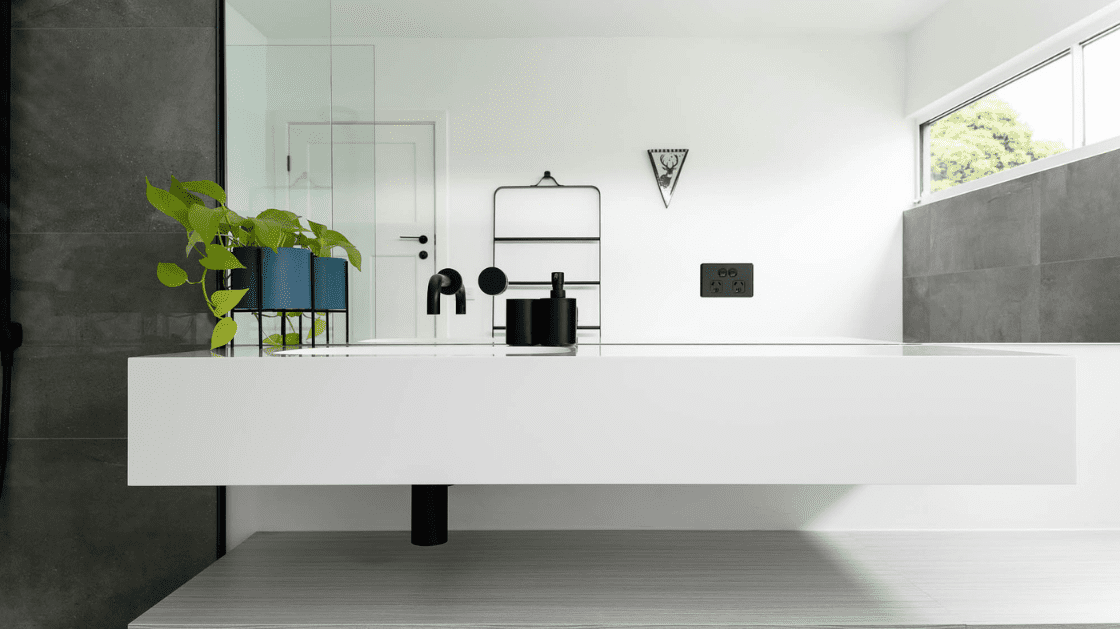 Request a call back to discuss your next project
Wellness at home
With an increased focus on our physical and emotional wellbeing over the past few years, homeowners are investing more into ways they can improve their health outcomes at home. Bathrooms are the perfect space to incorporate features that denote calmness and tranquility, while providing us with convenient ways to improve our health and hygiene.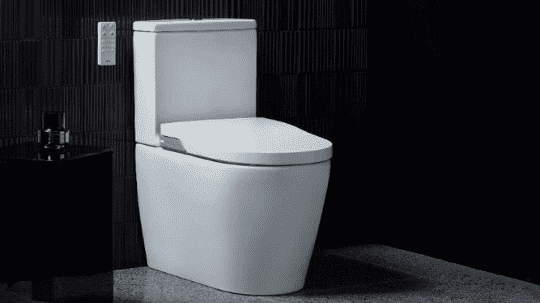 Smart toilet. Image source:
Reece
Smart toilets
Whereas traditional bidet toilets can often take up space, modern Smart toilets are incredibly sleek and streamlined. With impressive features such as sensor toilet flush buttons, self-cleaning nozzles and automatic opening seats, Smart Toilets offer a convenient way to increase our hygiene while also being kinder to the environment.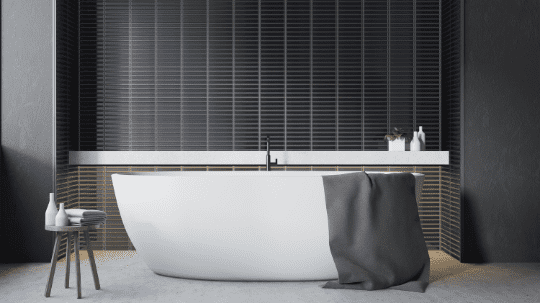 Spa like designs
With a renewed focus on our health and wellbeing in recent times, modern bathroom designs that include spa-like features are very popular. Saunas, hydrotherapy baths, steam rooms and spa baths give you the ultimate hotel-like experience in the comfort and convenience of your own home.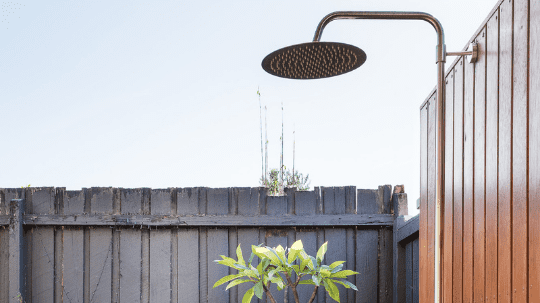 Bring the outdoors indoors
The benefits of feeling more connected to nature are well known. 2022 is showing us that people are getting creative in how they manage to achieve a sense of the outdoors in their own home. 
For people undertaking single storey extensions that include a new bathroom in the extension, one of the greatest bathroom ideas trending in Australia right now is outdoor/indoor bathrooms. These often feature a shower and sometimes bath outside of the home, discreetly encased in natural timber for that sense of bathing surrounded by nature. This is a great bathroom idea in most parts of Australia as we have the perfect climate to accommodate such modern innovation.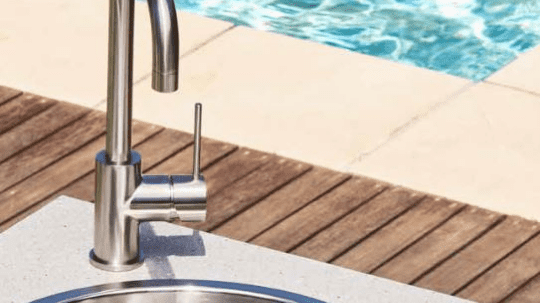 Sink mixer and infinity sink. Image source:
Reece
Blur the lines between exterior and interior
Recent backyard trends are highlighting that people want to blur the lines between indoor and outdoor, as many are opting for flooring that seamlessly runs from the indoor area out to the outdoor decking area, providing an unspoiled transition from indoor to alfresco dining. 
Natural materials like wood and stone and muted earthy colour palettes are highly desired in bathrooms at the moment, while adding plants that naturally thrive in humid temperatures such as orchids and succulents are a great natural addition to any bathroom.
Practicality and modern luxury with Spacemaker
If you are considering a renovation project or designing a house in 2022 and are wondering how you could turn your bathroom aspiration into a reality, look no further than Spacemaker Home Extensions.  Our professional team and practical advice will ensure your new bathroom offers the practicality you need with the luxury you deserve. Call us on 03 8873 7800 today.