Kew First Floor Extension
Creating a home for the whole family
A traditional street frontage, carefully constructed by Spacemaker to remain sympathetic to the home's historical character contrasts with the modern contemporary architecture at the rear of this cleverly designed family home.
BUILD TYPE Renovation, first floor extension
BUILD TIME 36 Weeks
ORIGINAL SIZE OF HOME 142sqm
NEW SIZE OF HOME 217sqm
AWARD ENTRANT 2020 HIA Renovation/Addition Project $400,001 – $600,000
AWARD ENTRANT 2020 Master Builders Best Renovation/Addition $500,000 – $750,000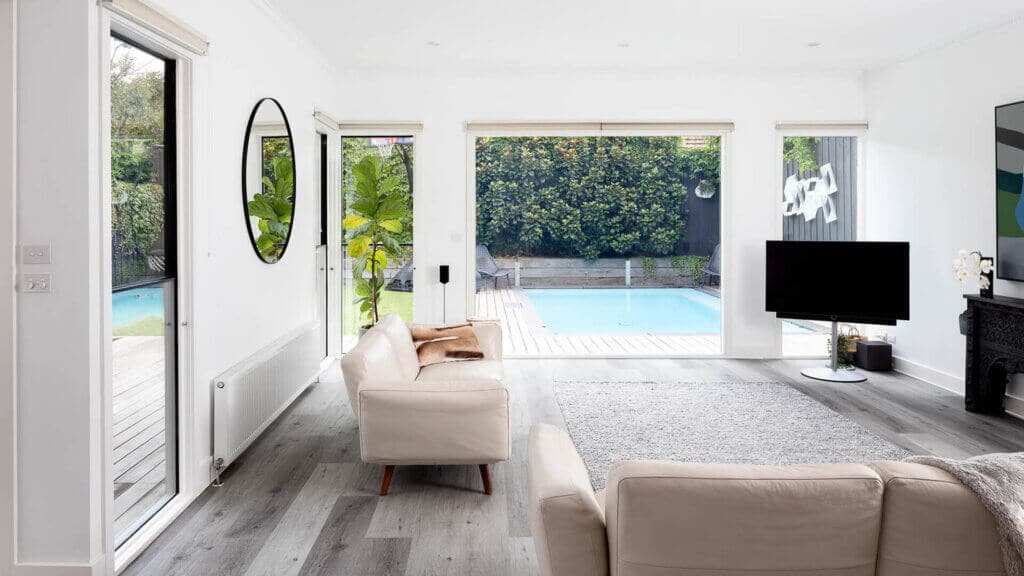 A separate children's zone that would accommodate their two primary school aged boys through their teenage years was the top priority for this family, and since backyard space was precious, a second storey extension was the answer.
FAMILY
This clever design has fulfilled the clients wish-list, providing a spacious, comfortable zone for the children, a stunning powder room, functional laundry with additional storage, and the bonus of extra living space, all while staying within the dwelling's original footprint.
STYLE
The vertical stringy-bark timber external lining and large areas of glass at the rear of the home form a stunning backdrop to the pool and deck area, allowing this space to function as a seamless extension of the living area.