A Guide to This Year's Top Living Room Trends and Interior Design Tips
The world of interior design is rapidly evolving and we're seeing new trends emerging and old ones fading away.
In today's fast-paced world, our living spaces have become a sanctuary. Homeowners crave interior design and home fit-outs that improve our moods and boost our well-being. Whilst it's important to increase our level of comfort and relaxation at home, it's also vital to design our living rooms in ways that reflect our personalities and our lifestyles with practicality and functionality in mind.
When it comes to living room trends, 2023 has plenty to offer, making your space both functional and stylish and allowing for individual creativity to flow. 
Let's unpack what 2023 has in store for our living spaces
Discover exciting new ideas to breathe fresh life into your living room and entertaining spaces. If you plan to update your living spaces soon, staying ahead of the curve is essential.
The Spacemaker teams are experts in the design and building industry, regularly sharing information to inspire homeowners around the country. Our blog posts offer insights into topics ranging from kids' playroom designs to home flooring ideas and top bathroom trends.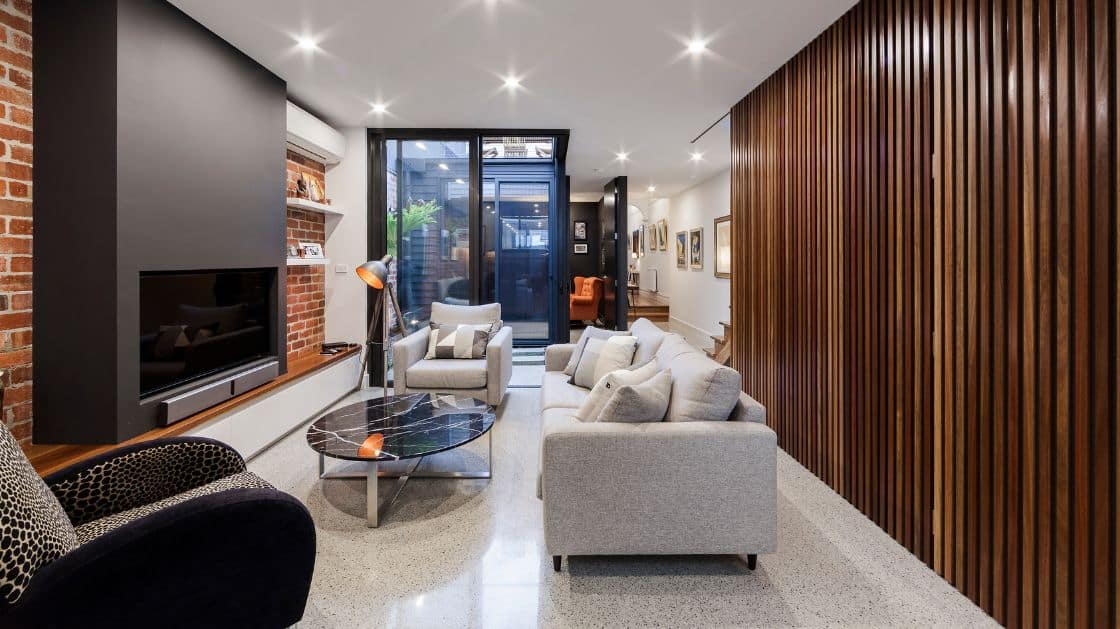 Top 9 living room trends in 2023
From amazing arches to the colour of the year, multifunctional spaces, and trending furniture, here's everything you need to know about the hottest new living room design trends for 2023.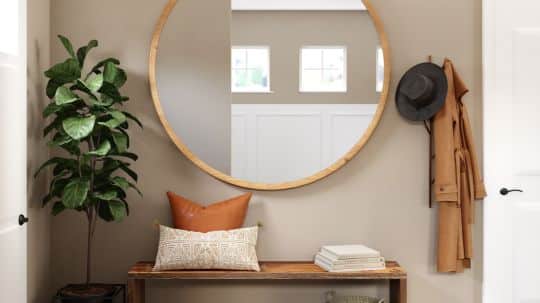 One of the most notable design trends for living rooms is the rise of beautiful arch-shaped architecture, furniture and design touches. These take inspiration from classic Renaissance architecture, adding a touch of grandeur to modern living spaces.
Incorporate arched designs by adding them to door frames and window designs, or introducing a large mirror. Whether your living room is modern or traditional, arches can be a timeless addition that complements any style. With their elegant curves and stunning design, arches can make a statement and create a sense of sophistication and charm in your living space. 
2. Lavender: The living room colour of the year
2023's trending living room colour is lavender. This calming shade promotes tranquility and is perfect for creating a relaxed space.
Choose a lavender colour variation you prefer, whether for walls or various home decor elements like bedding and curtains to showcase your unique style.
However, it's important to avoid using too much purple in your design as it can overpower the space and diminish the colour's soothing effect. The key is to strike a balance to transform your living room into a cosy retreat that's both stylish and relaxing.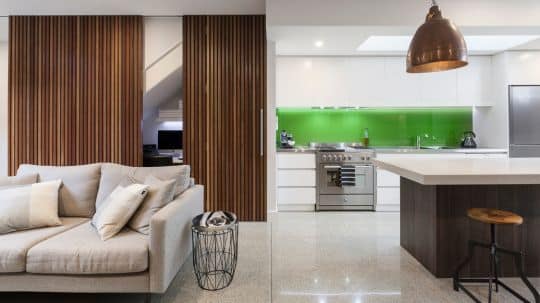 3. Colour variations invite your creativity
Designers and colourists are seeing a new era of vibrant and colourful combinations. They encourage moving away from the safety of neutral palettes and suggest embracing colours that bring joy and invite creativity into living spaces.
Warm, rich earthy shades along with bright and fully saturated colours are recommended. Pastels can be used as a starting point, with the option to move on to bolder shades that suit individual preferences. Designers are giving special attention to dusty yellows, deep teals, soothing blues, and soft greens, whilst at the same time, brighter variations can be used as accents to add interest, depth and a pop of something unique.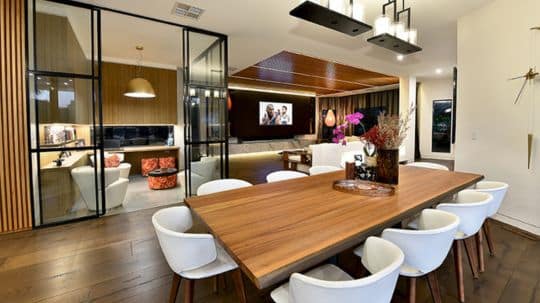 4. Multifunctional living spaces
One of the most popular living room design trends this year is the open-plan living system. Unlike other rooms in the house, the living room is more versatile and can be combined with other functional areas. By implementing an open-plan living system, you can create a feeling of spaciousness and allow more natural light to flow throughout the home.
This design enables the integration of living and dining rooms, living rooms with kitchens, home offices, or even a combination of all spaces. It's ideal to maximise space and create a seamless living environment. 
If you want to complement your living room with an open-plan kitchen, browse these kitchen trends that add functionality and style.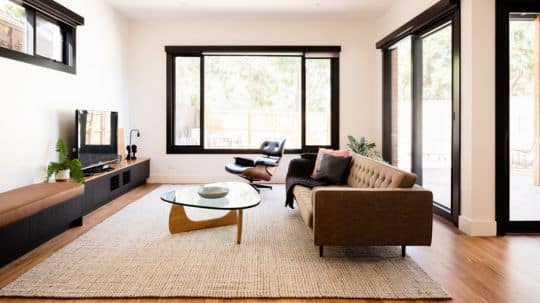 5. A balance between maximalism and minimalism
Over the last few years, living room trends have been mostly characterised by extremes—either going all out or keeping the design to a bare minimum. However, in 2023, decor experts are opting for a more balanced approach.
Yes, bright, eye-catching colours and patterns will continue to be popular and bring a touch of character to any room. However, be mindful of where to introduce daring accent colours and aim for simplicity that hints at boldness.
More geometrical shapes with straight lines and angles will help create structure in your living room. Combining these with softer, rounder shapes will make your living space look captivating. This balance of opposing elements creates an inviting living area that is both practical and aesthetically pleasing.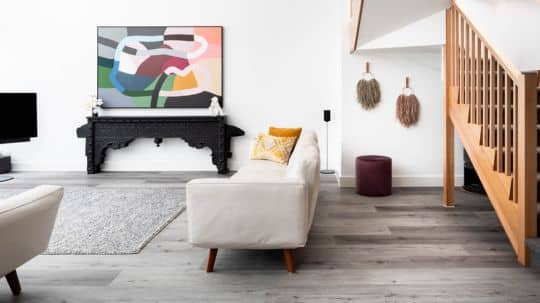 6. Trending furniture in 2023
Classic furniture is back in style. Old-style pieces with a straight or curvy design add character to any space, whilst mixing and matching furnishings will make your living room look unique and reflect your taste.
While interior design experts still adore light-coloured sofas, cabinets, shelves and chairs, living room trends in 2023 show a rise in black-coloured furniture. Decor enthusiasts love the striking contrast that black elements create against a typically light-coloured backdrop. Black standout pieces can create a unique level of drama that cannot be achieved with lighter furniture.
Velvet is also a popular finish for sofas and chairs, giving them a luxurious feel and making them a showstopper element in your living room. Size does matter this season as extra large and comfy pieces are also on the rise, reflecting the demand for greater relaxation at home.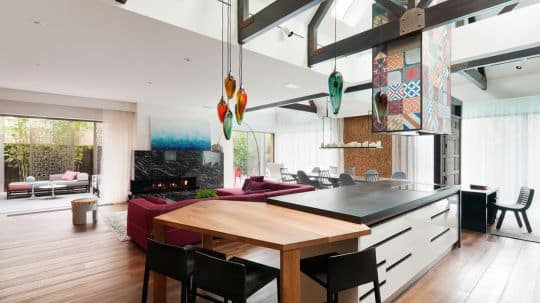 Decorative, sculptured and visually-appealing statement pieces can make your living space look like a designer showroom whilst still feeling comfortable.
With the rising cost of living, refurbishing second-hand items is one of the top living room trends in 2023. Upcycling and restoring pre-loved pieces is a great way to use your creativity and add a personal touch to tired or outdated furniture.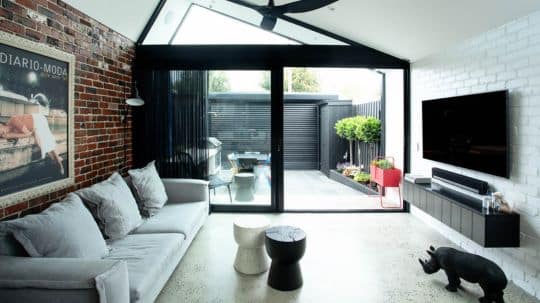 8. Embrace mushroom madness
Inspired by the previous year's fashion, the mushroom trend is spreading rapidly and is favoured by decor experts. Mushroom colours and shapes are a quirky way to get back in touch with nature, alongside introducing natural elements within the home.
Mushroom-shaped designer lamps in black or white add a contemporary twist to your interior layout. This take on a classic design is refreshing.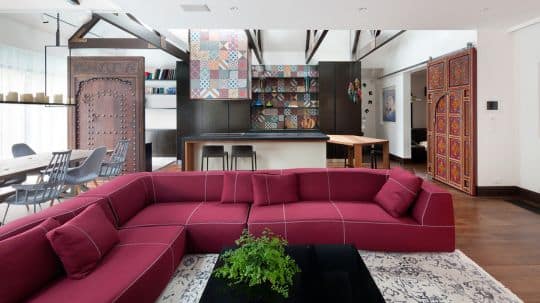 Light wood is taking a back seat as dark wood takes centre stage as one of the top 2023 design trends for living rooms. Dark wood adds a touch of elegance and sophistication to any living space and feels especially cosy during the colder months. This natural material has been updated with new colour variations, bringing a modern twist to classic styles.
Consider an ebony TV unit, mahogany benchtops, wide leather chairs with teak armrests, wall treatments or decorative accessories—the extent of your creativity is boundless. Embrace dark wood to bring warmth and character to your living room and make a statement in your home.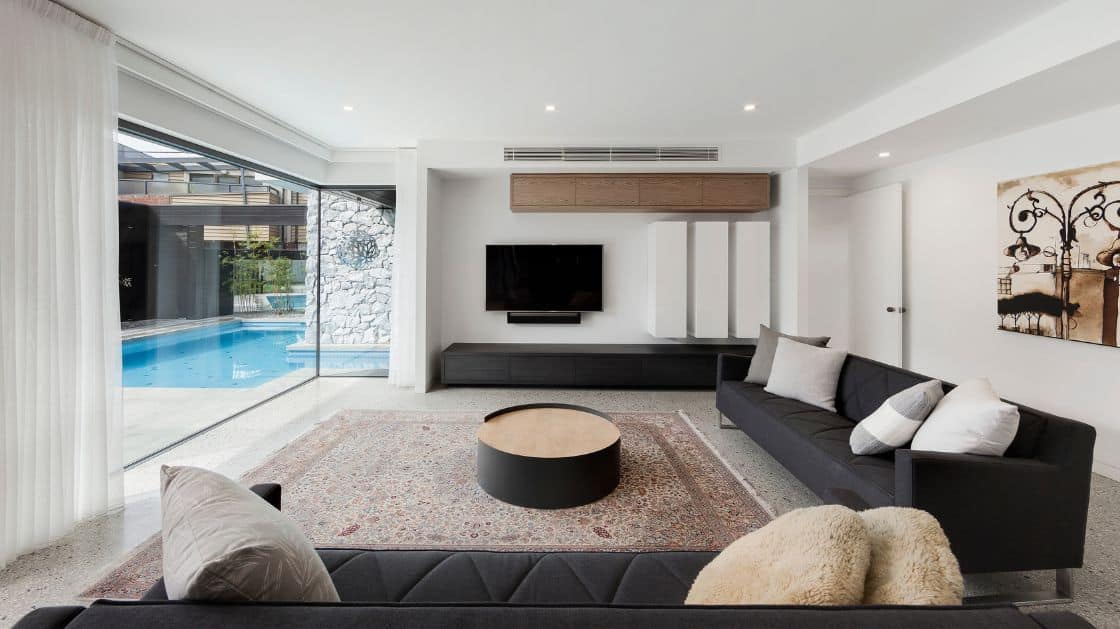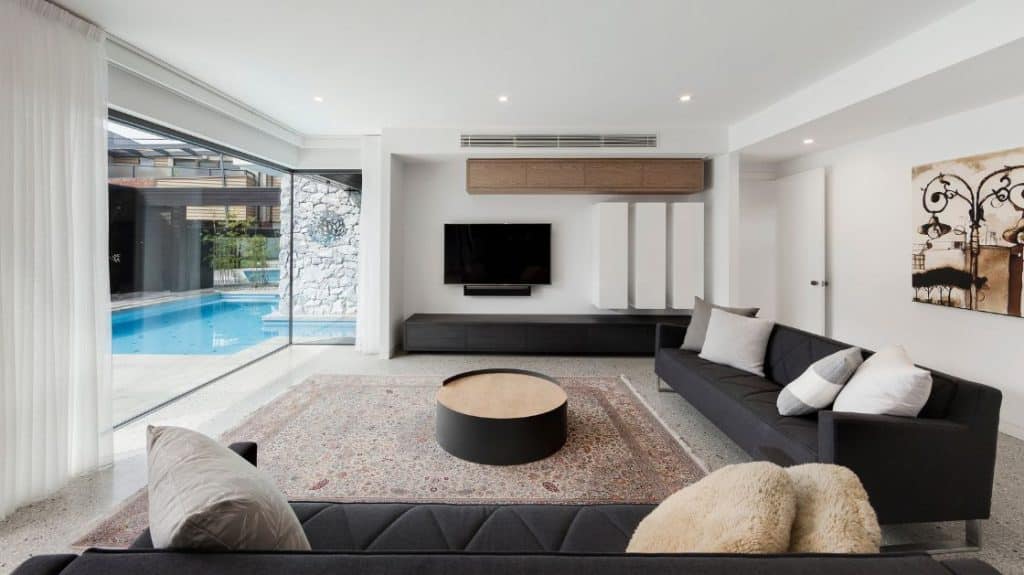 Living room trends to avoid in 2023
While staying on top of the latest design trends is essential, it's also important to know what to steer clear of. Based on 2023 living room trends, interior design is set to feature a variety of bold colours, so it may be time to reduce the amount of grey in your home. Rustic barn-style walls, rose-gold metal and chrome are on the out, with their popularity slowly fading this year.
While it's the year to add characteristic furniture pieces to your living room, experts are moving away from coordinated sets. Embrace your personality and make a statement with your home decor by mixing and matching more! 2023 is about you, and your home should reflect that.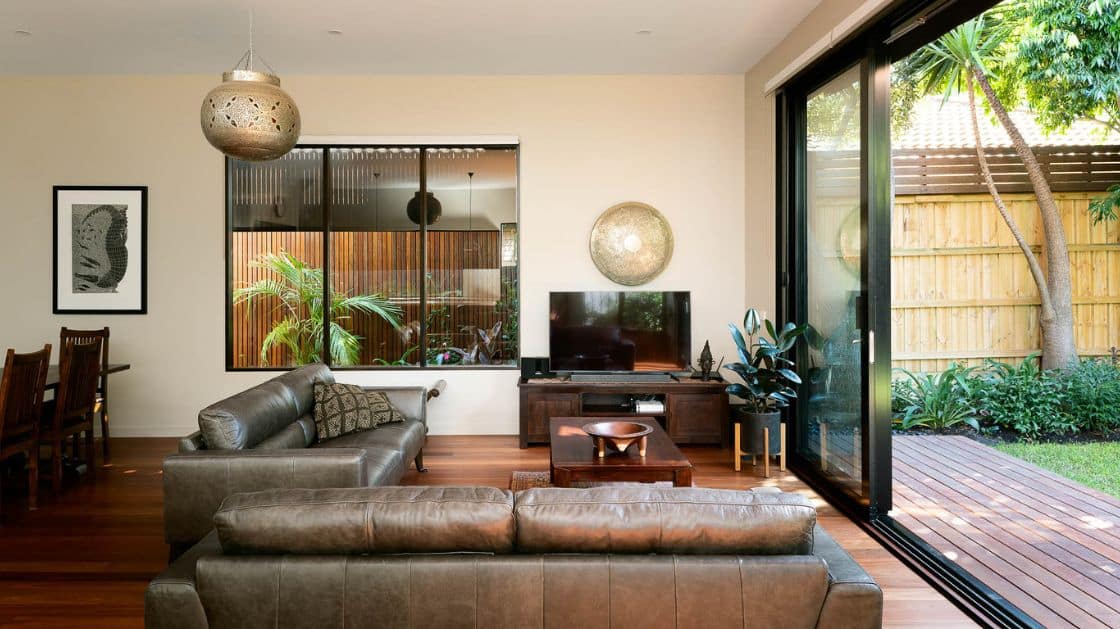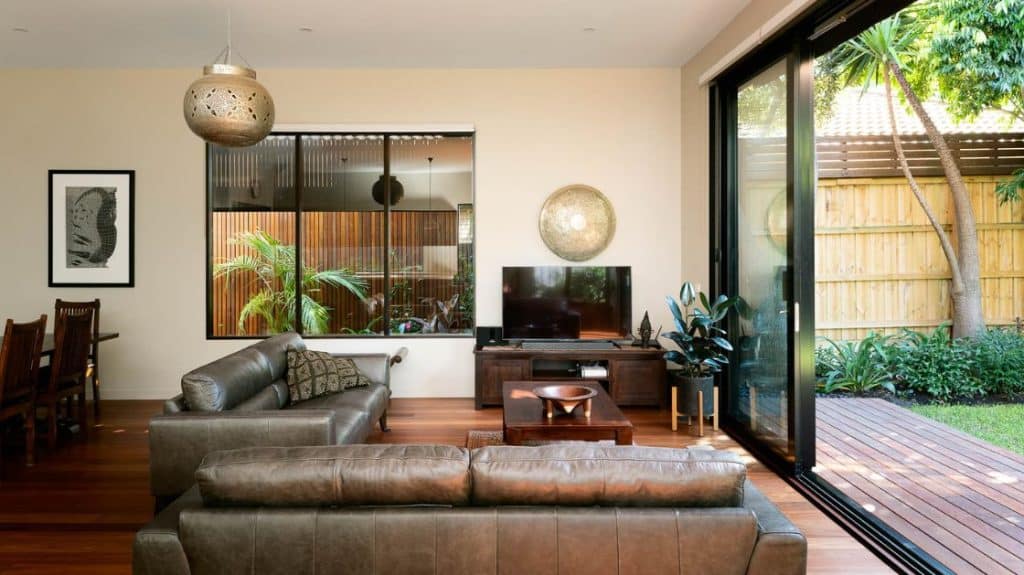 Transform your living room with expert custom home builders
Keeping up with ever-changing living room design trends can be challenging, and our experts are here to guide you. As custom home builders in Melbourne, our team is committed to staying on top of the latest trends, offering you various options to choose from whilst inviting you to showcase your individuality.
Spacemaker provides a personalised and collaborative approach to interior design, working closely with our clients to create spaces that exceed their expectations. With over 53 years of experience, we can help you create a beautiful, inviting living room that reflects your style and personality. Contact us today to start your home transformation journey with the best in the business.