Practical Master Bedroom Design Tips to give your Bedroom a Makeover
The master bedroom is your retreat at the end of a long day. Perhaps you also enjoy using it for reading, relaxing or working. Whatever the case may be, the ideal design and layout will be cosy, inviting, and practical. If you're undergoing a custom house renovation and extension, browse our seven master bedroom renovation ideas for inspiration about how to remodel the most important room in your home.
Top 7 ways to give your master bedroom a facelift
Create the perfect main bedroom in your home with our top seven master bedroom decor ideas:
1. Pick out the right bed—and bedding!
It's easy to get carried away by your ideal bedroom furnishings without paying attention to how they will best fit into your layout, or most effectively meet your needs. When choosing the right bed, carefully consider these three elements: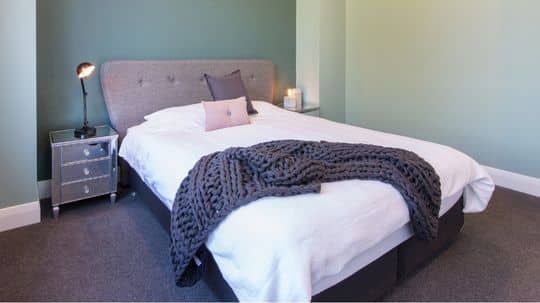 Bed size: A king-size bed has strong appeal but it may not be a good match for your bedroom. Consider the size of the bed, the space available in your room and how the bed will fit into it. A very large bed in a small room will look cramped and out of proportion.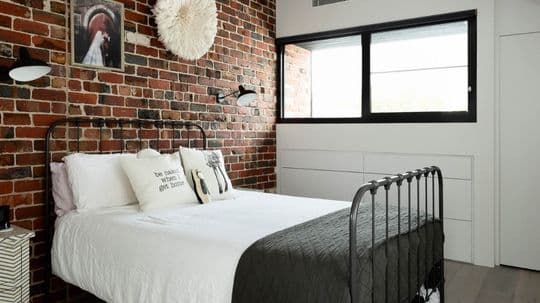 Bed bases and frames: A base or frame with a timeless, classic look will complement many different design styles. Some bases and frames have drawers or gas-lift storage bases. These provide extra storage space accessible from the side or foot of the bed, with a tab to lift the mattress. These bases can be handy to store bedding or other items not in use and keep them neatly tucked away out of sight. This is especially effective in smaller rooms with fewer cupboards.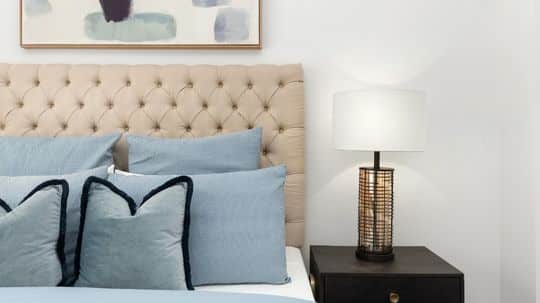 Bedheads and headboards: Bed bases and bed heads can be sold as a set or purchased separately. Buying them separately gives you the freedom to choose a headboard with a different design that can make it a feature. Spruce up your master bedroom with a nature-inspired timber bedhead, a soft, plush or velvet-upholstered one, a trendy woven rattan style or an iron bedhead for an ornate touch.
Tips for styling your bed
Once you've chosen your bed size, base and headboard, it's time to get creative with your bedding.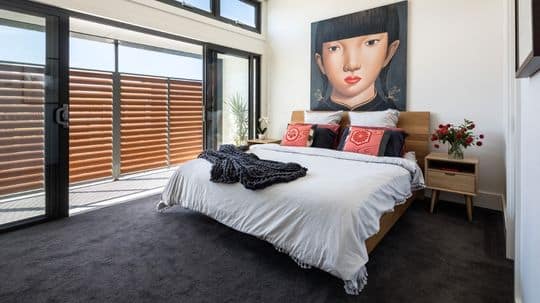 Go high-quality: Premium duvets and pillow inners are worth the investment. They can help you sleep better and make you feel calm and relaxed as soon as you get into bed. Whether you want to sleep, work or get on with a hobby, the value of good-quality bedding cannot be overstated!
Use reversible duvet covers: These can be used on either side–one side usually has a pattern or motif, while the flip side has a solid colour or pattern variation. Regularly switch up the look of your bedroom by simply turning the duvet over, with no need to buy additional covers.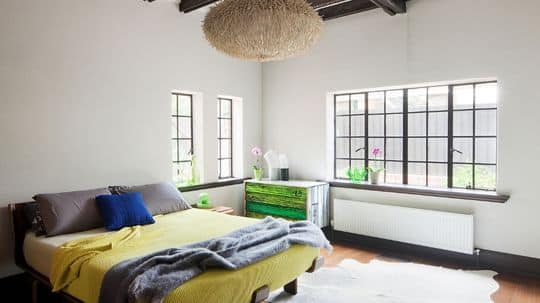 Colour up with cushions: Place different types, textures and shapes of cushions on your bed to add depth and a design feature to your room. Organise them by size, putting the largest at the back and the smaller ones in front. Either colour coordinate, or create a contrast between cushions and other elements of the master bedroom decor, such as curtains, bedhead, or walls.
Add texture with throws: Textured throws and blankets add a soft and cosy look. Casually drape one over the last third or corner of the bed as an accent. Add an extra dash of colour by layering two throws over each other.
Try out a few of these different master bedroom ideas to see which styling tips work best for you and create the atmosphere you want.
Request a call back to discuss your next project
2. Upgrade the ensuite bathroom
An ensuite bathroom with a dated look and style can make the rest of the home appear older. Fortunately, a few changes to your ensuite can upgrade and modernise your home.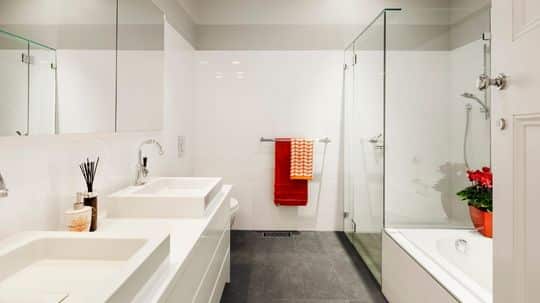 Change the fixtures: Upgrade the faucets, towels, lighting or wall cabinets for a quick facelift. For example, minimalist fixtures can look sleek, ultra-modern and futuristic, while metallic-coloured fixtures will add a luxurious touch. There is no right or wrong style—choose what best complements your renovation design.
Try new tiles: Light-coloured tiles make the bathroom feel spacious, especially in smaller spaces. Tiles can also add texture—try a backsplash or mosaic above the vanity, or a few accent tiles to catch the eye. A feature wall in the shower cubicle makes a catchy focal point.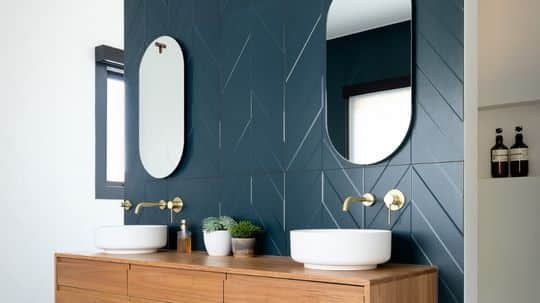 Add space with mirrors: Give the illusion of more space by using mirrors. They are a useful design element—natural light entering the bathroom bounces off them, creating a brighter space that feels airy and inviting. Smaller bathrooms can benefit from large-format mirrors that cover an entire wall.
Make it natural with plants: Greenery in the bathroom brings in a pop of natural colour, while trailing plants can create a sense of cosiness and soften hard edges in an otherwise sterile space.
Seating: For ensuites with extra space, an ottoman or cushioned bench is a practical yet indulgent add-on. Sit down to dry off after a bath, or relax during your body care routine. 
If you would like to add or upgrade a master bedroom ensuite whilst renovating the rest of your home, speak to a building expert. Spacemaker's renovations and extensions are customised to suit every aspect of your home and lifestyle.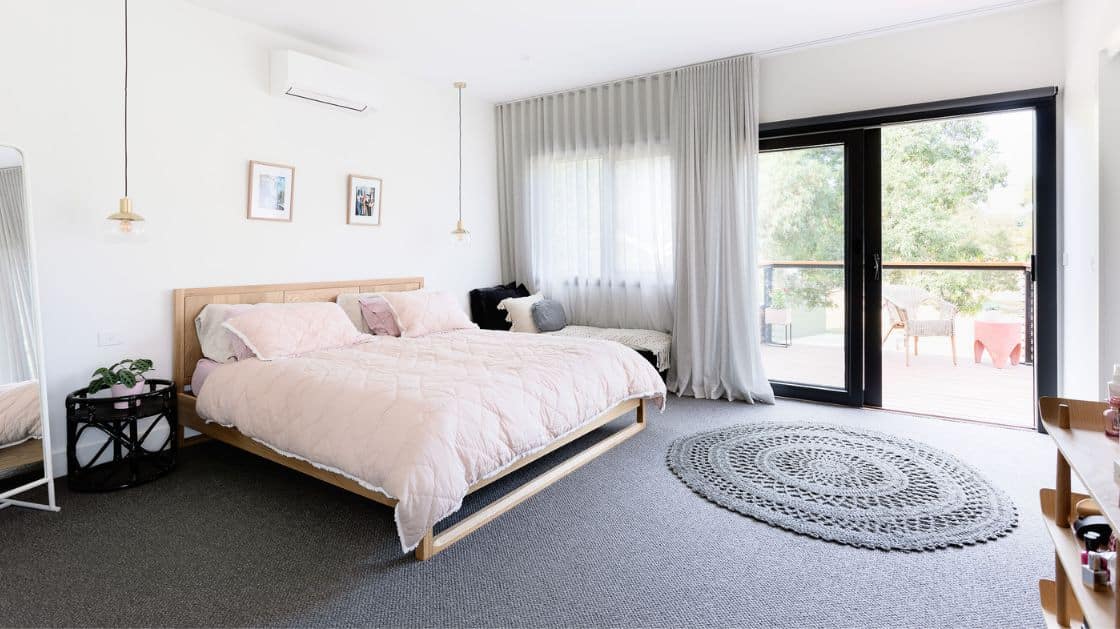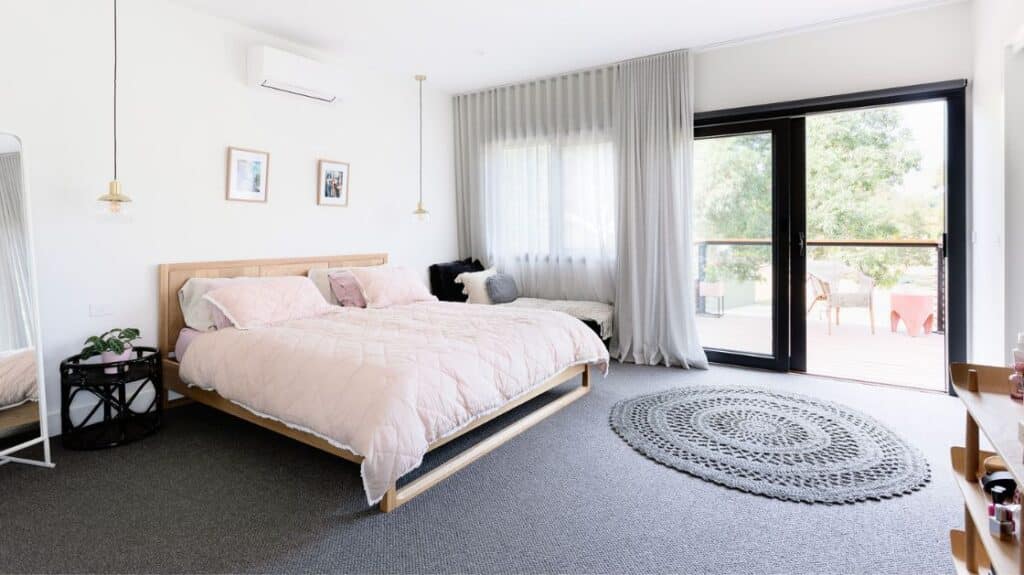 Master bedroom lighting is essential to creating an inviting space. Let natural light in through large windows and skylights. Strategically place lights and lamps in areas where extra light is needed–above the bed for reading, in the walk-in robe, and above the sink and vanity in the ensuite bathroom. Feature a dramatic fixture or chandelier to add interest.
Mirrors also improve the lighting, not only in bathrooms but in bedrooms too. Use large or wide mirrors to reflect natural light and illuminate the room even more. 
4. Strategically select colour
Increase your bedroom's calming effect by choosing a soothing neutral colour for the walls and ceiling—beige, cream, light grey, pastels or different shades of brown are some popular options. Bold colours like red and orange can be over-stimulating, so avoid using these colours for bedroom walls or ceilings. Lighter colours for ceilings work best, especially for small bedrooms, and painting the ceiling the same neutral colour as the walls makes the room appear more spacious.
A master bedroom feature wall creates a focal point and is a wonderful way to add depth, texture and colour–use paint, panelling, wallpaper or timber to make the wall stand out and draw attention. 
Request a call back to discuss your next project
The ideal flooring for the master bedroom evokes a sense of warmth and safety. When you're ready to relax and kick off your shoes, the floors should be comfortable and welcoming to your bare feet. Consider cork, plush carpets, luxurious rugs, or hardwood with a rug—these options will feel more cosy and pleasant. Underfloor heating can be a total game-changer for those wintry nights.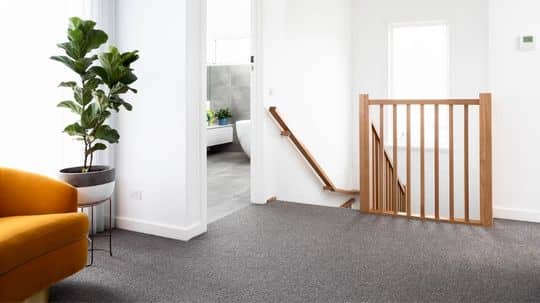 6. Incorporate multiple storage options
Remodel your master bedroom layout to ensure there's enough storage space for two adults. A walk-in wardrobe is the ultimate solution for organising clothing, shoes and accessories.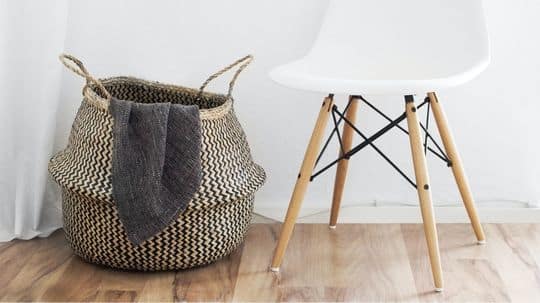 Add a laundry basket: Keep one in the corner of your room to save a trip to the bathroom and ensure dirty clothing never reaches the floor.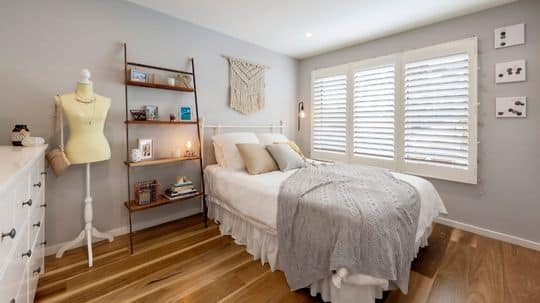 Declutter with drawers: Are there too many skin care products, devices or accessories on your nightstand? Invest in a set of drawers and neatly store them out of sight.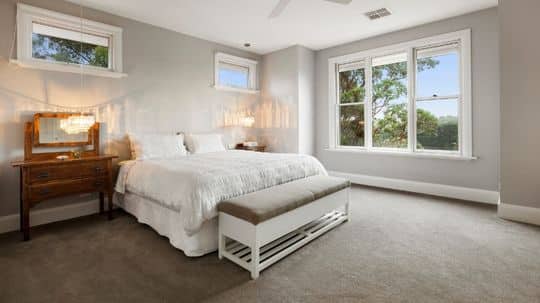 Ottomans with storage: A comfy ottoman with storage space inside is a smart way to pack away bedding and other items while it doubles as a seat. 
Organising your belongings will free up space—your room will look bigger and neater, and will have enough space to keep those essential items within easy reach.
7. Enhance privacy with window dressings
Curtains and blinds effectively provide you with privacy in the rooms that need it the most—the master bedroom is a top priority! Curtains can be sheer or made from fabric that blocks out light. The materials they are made of can sometimes be bulky and take up space, an important factor to keep in mind when choosing them for windows in a smaller room.
Blinds have a more minimalist look than curtains. They take up less space, look neat and offer comparable light and privacy control to curtains. Both curtains and blinds can be made from a variety of fabrics and materials, in different styles, designs, textures and colours, giving you enough options to choose one that works in your room.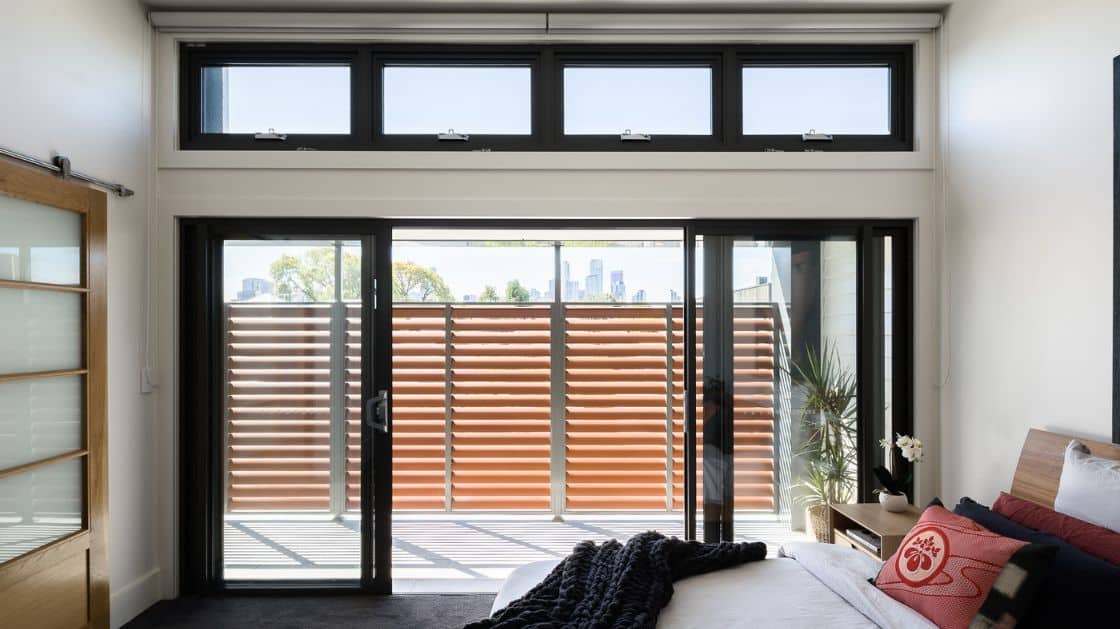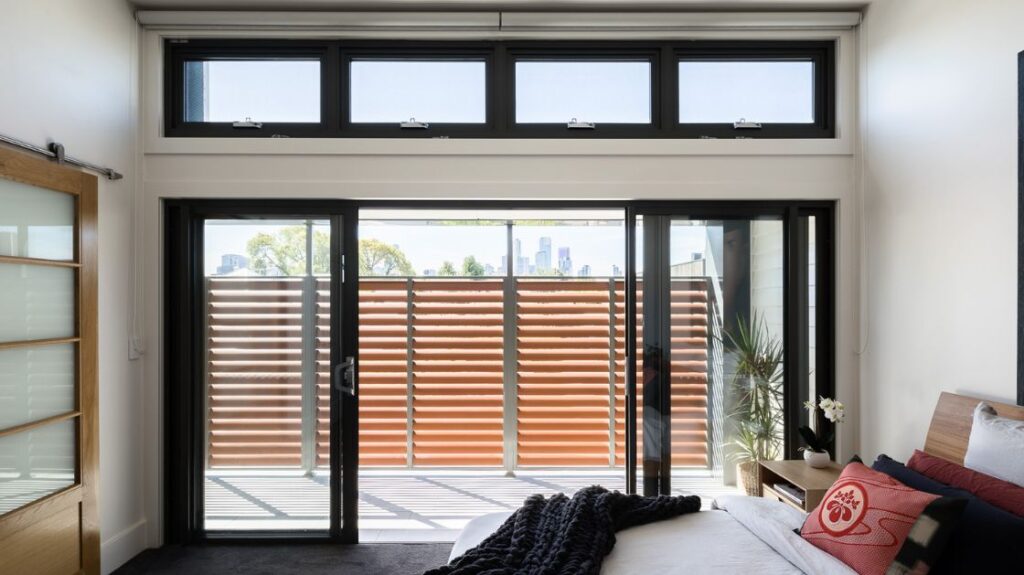 Renovate your master bedroom with an experienced custom home builder
Make the most of your home renovation journey by working with an expert who will make your needs, wants and lifestyle front and centre on your project. The multi-award-winning team at Spacemaker Home Extensions has over fifty years of experience in designing custom new homes, renovations and extensions for Melbourne homeowners. Call 03 8873 7800 and find out what we can do for you.