The bed and breakfast is a double-storey building with two exclusive units. The ground floor unit, named The Gatehouse, is wheelchair accessible. The spacious yet elegant and practical layout was crafted to ensure easy mobility, complete with a designated accessible parking bay. 
The Gatehouse unit features a big bathroom complete with the comfort of under-floor heating, further promoting cosiness and relaxation. Adding to this unit's charm is a wood heater and a private timber deck that invites guests to take in the fresh air and appreciate the lush greenery of the outdoors.
Aptly called The Loft, the second unit occupies the upper level, showcasing magnificent cathedral ceilings. It is reached via a majestic spiral staircase.
Guests are treated to panoramic views and an abundance of natural light through its large windows, creating a seamless connection between the comfortable indoors and the lush landscapes surrounding the property. Much like the ground floor unit, The Loft also boasts cosy, under-floor heating in the bathroom and a wood heater to achieve the ultimate level of comfort. A private courtyard completes the unit, providing an intimate, tranquil oasis for relaxation away from the busyness of city life. 
Collaborating with market leaders in delivering a masterpiece
During the build of The Maples Bed and Breakfast, Spacemaker had the pleasure of working alongside many trusted and experienced partners, including Will Hamilton for their exceptional carpentry, Eagle Aluminium for the crystalline windows, Prestige Tiling and Beaumont Tiles for supplying high-quality tiles in both units, Precision for their top-notch shower screens, Melbourne Wood Heating Centre for their fantastic wood fireplaces, and Kitchens Victoria for their beautiful cabinetry.
Spacemaker also relied on the expertise of DS Building Design, Spantek Engineering, New Wave Plumbing and Premier Electrical. Together, these suppliers and service providers ensured we exceeded our client's expectations in the successful build and delivery of The Maples Bed and Breakfast in Olinda.
Spacemaker's commitment to bringing this client's vision to life is evident in every aspect of The Maples Bed and Breakfast. The result is a harmonious blend of architecture, nature and accessibility, all easily integrated into a luxurious bed and breakfast.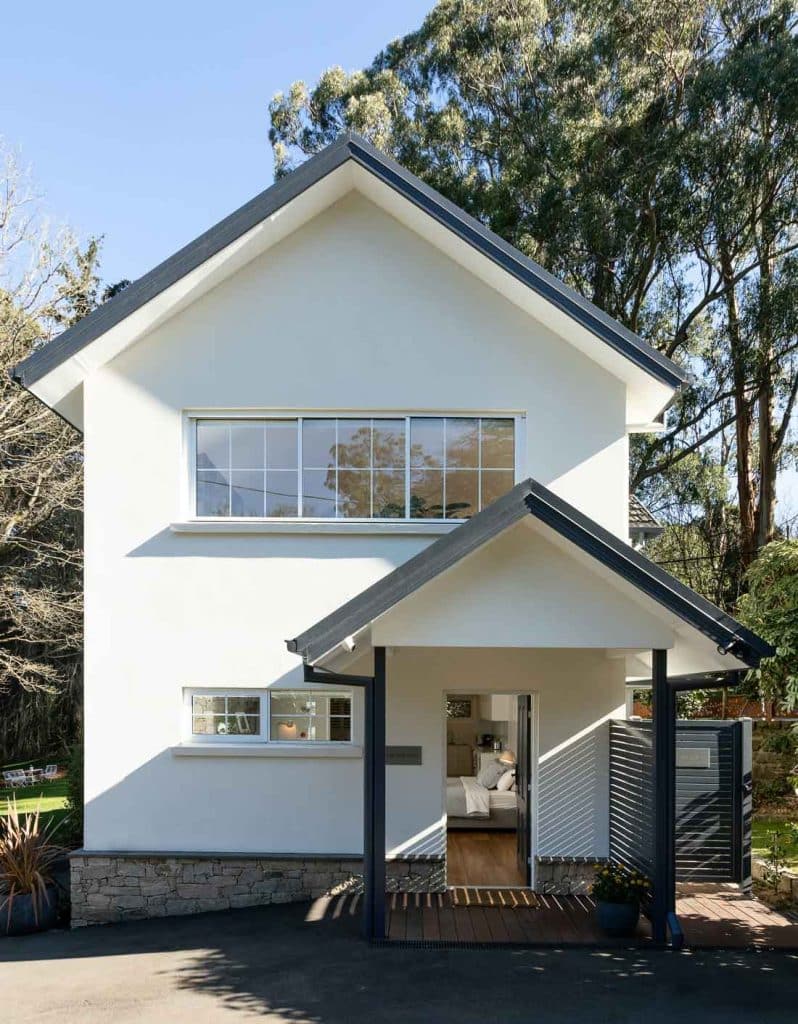 "From the initial quote through to the finished product, the team were approachable, willing to explore options for me, happy to give advice, and came up with alternatives for me when budget dictated…"
Custom build your next property with Spacemaker
Spacemaker has over 50 years of experience as a design and construction builder, and has worked on many properties across Victoria that have gone on to win numerous awards on the national stage. If you're in the market to upgrade your property with a breathtaking custom build or you want to add another level and extend your existing home, contact our team today. Our expert team are ready to discuss how we can transform your property into a visually appealing and practical home or commercial venture.