Creative and fun decor ideas for the perfect kids playroom
A kids' playroom is an enticing, joyful space that encourages them to explore their interests and let their imagination run free. As parents, getting to decorate this room can be pretty exciting—it's only a matter of time before we channel our inner child and recall the wonderful gadgets and accessories we dreamed of having at their age. Until we remember that the playroom is not for us but for our kids, of course!
Whether you'd like to have the look and feel of the kids' playroom fit in with the rest of your home or have it styled uniquely, we've curated some inspiring ideas that will bring out the 'fun' in 'functional' and keep your little ones content for hours on end.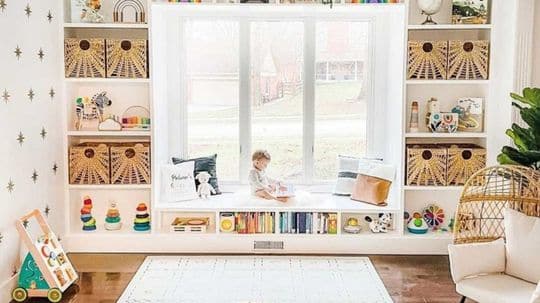 1. Maximise room space
Clever use of vertical space and multifunctional furniture has the potential to make the most of a smaller area. Wicker baskets, modular shelving and peg boards can serve multiple purposes.
An awkward wall space can be turned into a reading nook with floating bookshelves mounted at different heights for a dash of quirkiness.
A ladder desk with vertical shelves can hold different items, like art supplies and paper. Tiered corner shelves are perfect to display something interesting while also being within easy reach. Remember, what may seem like a tight spot to an adult can feel like a big, airy space to a child.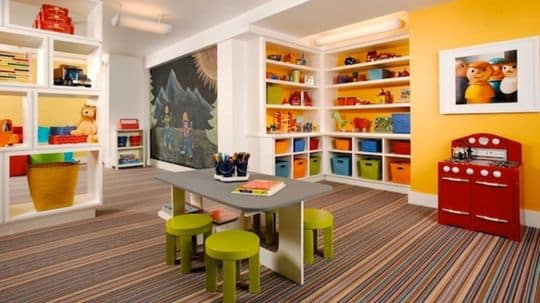 2. Innovative storage
There are plenty of open and closed kids' playroom storage ideas to explore. Ottoman chairs with storage space, hollowed-out benches, or benches with room underneath for storage baskets that offer comfortable seating along with an organisation option are smart ways to reduce clutter. Floor bins work well for smaller children, which can be labelled or colour coordinated so your kids can easily find and put away their toys. Trendy designs and chic bin and basket styles can add a pleasant touch to any playroom.
Wall shelves and built-in cabinets are also fantastic options as storage for kids' playrooms. To make the most of your storage space, plan for it in the early stages of your custom house renovation and extension project. You may just surprise yourself by ending up with more storage space than you anticipated!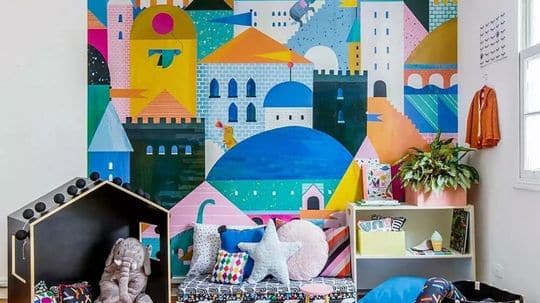 3. Wall decor
Decorating the walls in a fun and playful way can take many forms. Painting the room in your child's favourite colours, or a theme such as a visit to the zoo, or having a feature wall filled with their favourite fictional characters are all surefire ways to grab their attention and look great too. Neutral coloured walls work well for a modern kids' playroom, or if you're not yet ready to experiment with bold colours. Stick-on wall decals are worth considering if you're keen to transform a space into something more fun without committing to specific themes or colours.
An encouraging and novel way to prevent the kids from writing on your walls is to add a chalkboard wall to their playroom. A large chalkboard offers them the freedom to get as creative and artsy as they'd like and play an endless number of games—educational ones too!—without ruining the paintwork.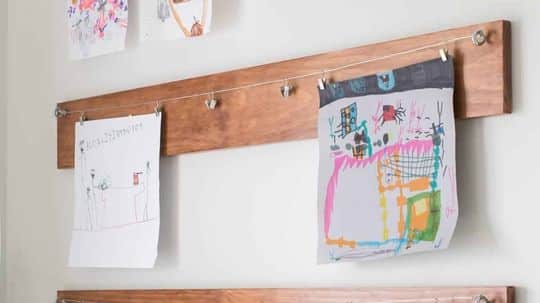 4. Artwork displays
Not enough room on the fridge doors for your kids' artworks? Dedicate a space for them in the playroom where your kids can proudly show them off. Having them framed and hung on the wall is a wonderful way to personalise and add colour to the room.
Your kids may love a string or wire line with some colourful pegs where they can hang up their masterpieces like bunting. The outcome is a pretty and decorative little art gallery.
The bunting method also makes it much easier to instantly update the kids' playroom decor with their latest artworks.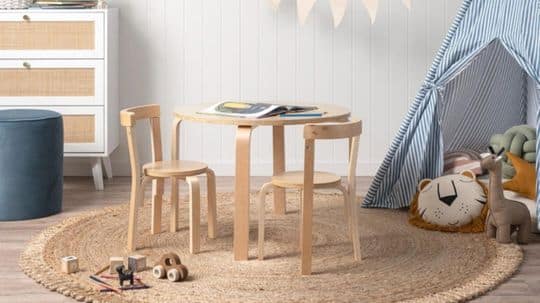 5. Table and chair set
A staple for any kids' playroom, table and chairs are great at making their space more accommodating and fun. From puzzles and craft projects to tea parties and snacking, kid-friendly furniture creates the perfect space for them to try out different activities on their own.
A variety of styles and designs are available to match your children's interests and the overall look and feel of their playroom. Among the many options are modern and contemporary table and chair sets, sustainably-made table and stool sets, foldable sets, multifunctional table sets and farmhouse-style sets. Some materials used to make the furniture are scratch-resistant and easy to clean, so keep a lookout for this as an added bonus.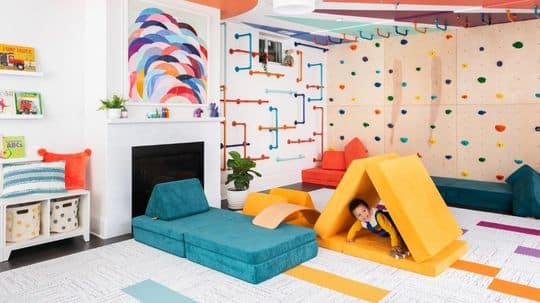 6. Indoor physical play
Children love to move, climb and swing, and all of these activities are necessary to aid their development, balance and sensory integration. Why limit these physical activities to the outdoors when you can bring them right into your home so that they are accessible in all types of weather? An indoor swing and a slide can be some of the most thrilling additions to the playroom. Combine them with a climbing wall, monkey bars and even a mini basketball hoop, and your children's playroom will have all the key ingredients to use up their energy productively and keep them entertained.
Discuss your ideas about how you would like to incorporate these elements with your custom home builders, so you can work together to make the most of the room's layout, natural light and use of space.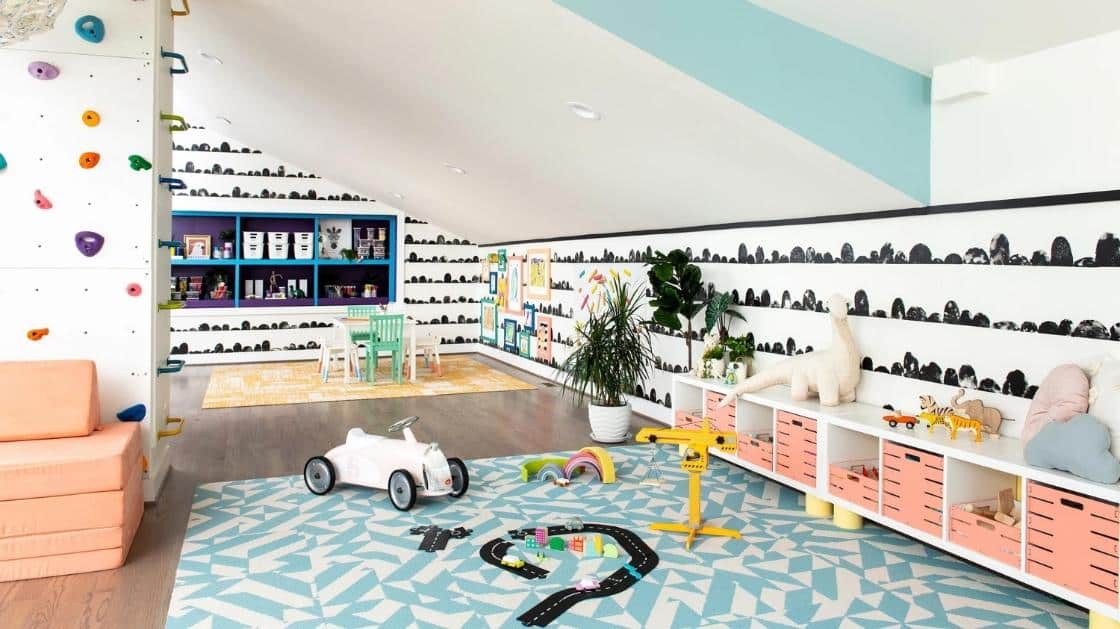 7. Playrooms that grow with your kids
How do you create a playroom that grows with your child? While different kids' activities appeal to different age groups, some activities remain the same and simply evolve with your child's age and maturity level. One such example is reading books. Create a comfy reading nook with a bookshelf that can be regularly updated as your child's love for reading flourishes and their book collection grows.
Furniture items such as an adjustable table and chair set that will grow with your child are worth investing in. A teepee tent is a cute option that can comfortably accommodate a child between the ages of 2 and 10—the teepee can also double up as a reading nook! When it comes to wall decor, stick-on decals can conveniently be removed and replaced with a more age-appropriate design for your child as they grow and their interests change. The bunting method of hanging your child's artwork from a wire or string can be updated and even serve as encouragement and a sense of accomplishment over the years, as they develop their art skills.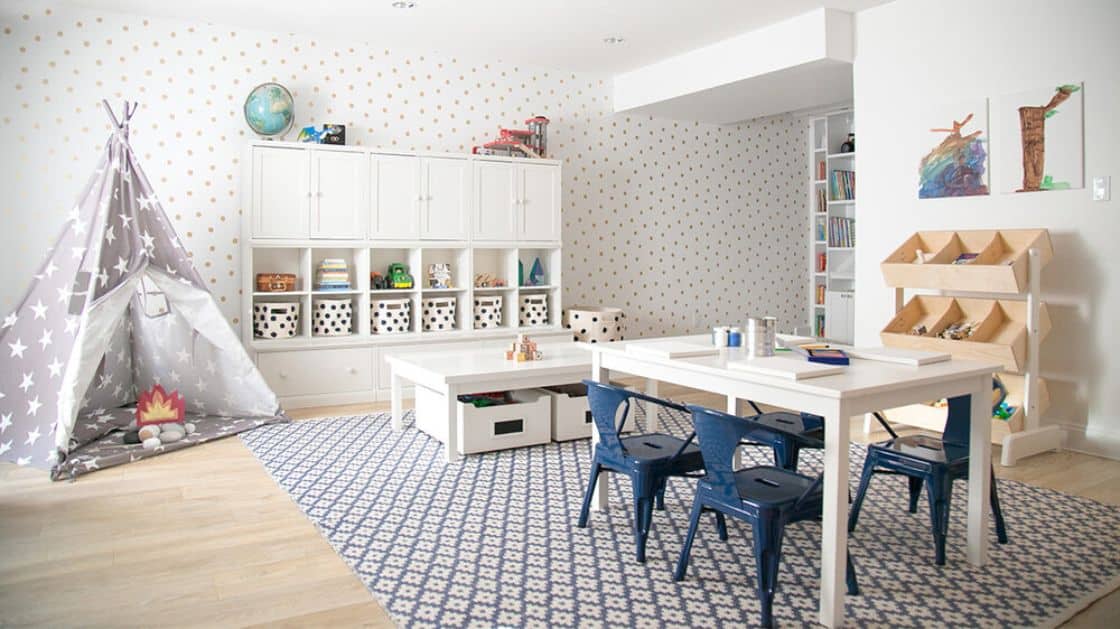 8. Child-friendly flooring
When selecting your flooring, factors such as how soft or firm the floor feels, whether it's easy to clean, its shock-absorbing properties, and whether it's a good fit for kids with allergies can help guide you. We've summed up the flooring options into three categories below. Whether you choose a carpet, playmat or hard flooring, all are versatile in terms of colours, design and style, making it easy to colour coordinate and complement the other decor elements in your kids' playroom.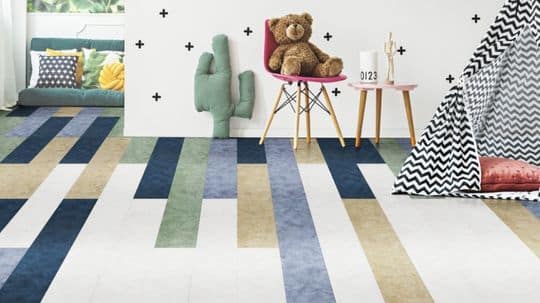 Carpet flooring options:
Carpets are fantastic for warmth and softness but keeping them clean can be tricky. That's why carpet tiles—individual tiles made from carpet which can be removed and cleaned separately—are a great option. Washable carpets such as rugs are another alternative. While they can be much bigger, they can be machine-washed, or cleaned with soapy water and air-dried while providing a cosy softness for the whole family.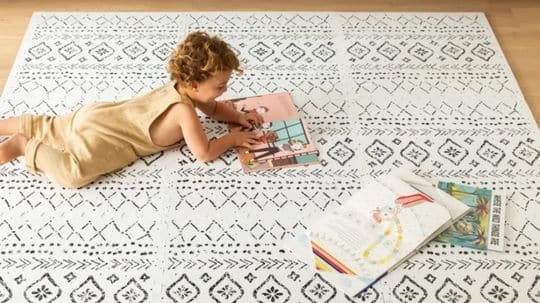 Playmats:
The name says it all—these incredibly comfortable mats are meant for play. Soft, yet firmer than carpet, playmats can absorb shock well and can be easily disinfected if needed. Vinyl, foam and rubber playmats are durable, however, foam playmats are often much thicker and offer the highest softness level of the child-friendly flooring categories. They're great for babies too, especially if the little ones are in the crawling and learning-to-walk phases.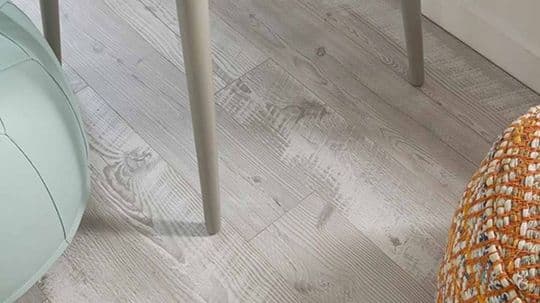 Non-carpet flooring options:
Cork, laminate flooring and tiles are suitable for kids with allergies, and if you have pets, the dander won't get stuck in any fibres. While tiles and laminate floors are hard when compared to soft carpets and playmats, they are durable and scratch-resistant. Cork is soft, flexible, mildew resistant and environmentally friendly. All three of these non-carpet options perform well when it comes to general wear and tear. So if your kids love running around as much as their rough and tumble play, this type of flooring could be a viable option.
Customise your child's playroom to perfection
Decorating and finalising the playroom is an engaging experience for the whole family. Not only will kids have their own space, but parents can rest assured that their children are getting the stimulation they need in a nurturing environment—right at home.
To help you create the perfect playroom for your kids, partner with building experts who can transform each room in your home into a unique and functional space. Spacemaker Home Extensions is a Melbourne-based, multi-award-winning home-building company with over 50 years of experience in working closely with homeowners to make their dream homes a reality. From the kitchen and entertaining areas, to the nursery and kids' playroom, Spacemaker has seen, done and mastered it all. Call 03 8873 7800 today and speak to a representative about what you have in mind for your home.