Single Storey Extensions.
We have over 50 years of experience with single storey extensions.
A single storey extension can be the perfect solution when you have outgrown your home but love your neighbourhood.
Sometimes it's just not possible to achieve what you need within your existing walls. If you require an extra bedroom, more living space, a second bathroom or more storage, one of our single storey extensions could be the answer you've been searching for.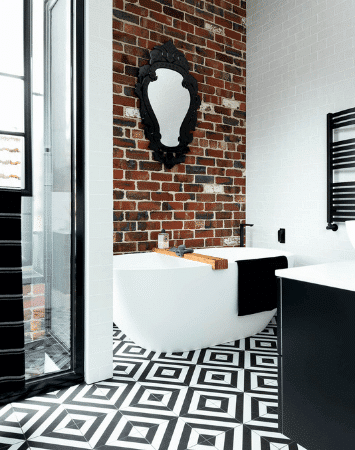 Love where you live
The advantages of staying where you are and adding a single storey extension are undeniable. You'll save on real estate fees, legal bills, moving costs and stamp duty, as well as the time and stress involved in searching for another property. Then there are the emotional benefits of staying in the location you know and love.
Upgrading your home with a single storey extension is an exciting and rewarding process. There are many examples of stunning results that have been achieved from this type of extension and renovation project. Even a relatively small single storey extension can have a huge impact on your ability to live, work and play in your home.
Well-constructed single storey home extensions can be a fantastic way to generate valuable living space, or finally achieve the design style of your dreams. As your family grows and lifestyle priorities change, it's important that your home evolves too.
The possibilities for change are endless. Modern homes are synonymous with inviting open-plan designs flooded with light and a sense of spaciousness. From creating a light, airy, open-plan living area to creating a getaway bedroom for your teenager, single storey extensions offer a practical way forward. Another bonus is that in many cases, you may be able to live in your house while the works are going on.
At Spacemaker, we have carried out hundreds of single storey home extensions, and we find it immensely rewarding when we see the difference extensions and renovations of all shapes and sizes make to our clients' lives.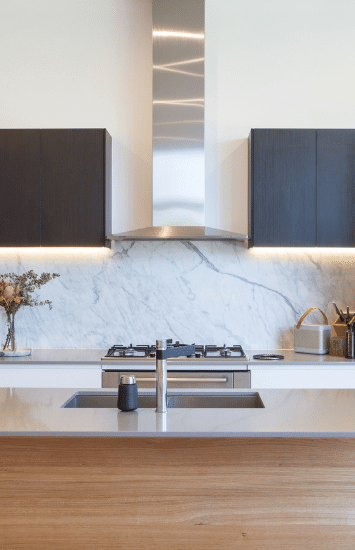 Why embark on a single storey extension?
Every project is different, but some of the more common reasons our clients come to us for a ground floor extension include: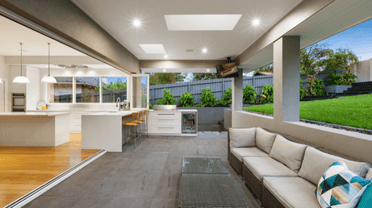 More entertaining space (either inside or out).
A light-filled studio.
A powder room with convenient access from living areas.
A working-from-home space/office.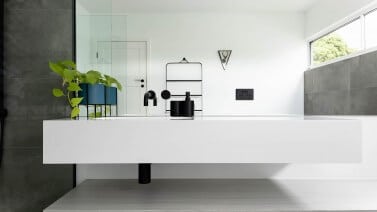 An alfresco dining area (which effectively provides another living space).
An additional bathroom.
A relaxation zone, such as a home theatre.
Better storage.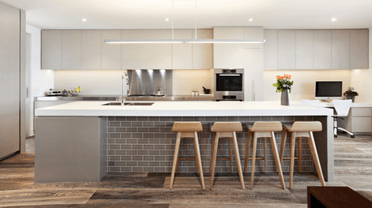 A bigger, more effective kitchen.
A butler's pantry.
An ensuite and walk-in robe attached to the main bedroom, to provide a parent's zone.
Giving your existing home a facelift is often a more cost-effective solution than a new build or buying a bigger house. You'll save on real estate fees, legal bills, moving costs, stamp duty and a host of other relocation expenses.
When deciding between a home extension and relocating to a new home, often the real cost of relocation is overlooked. These costs are sometimes greater than 8% of the value of the home – funds that could make a substantial contribution towards the cost of a renovation or extension on your existing home.
A single storey extension is often more affordable than building a second storey extension. While the foundation needs to be solid, less serious structural work is needed to accommodate a new first floor.
Getting the right team on board to undertake single storey home extensions is crucial.
Spacemaker's professional designers work with you to create a design that effortlessly complements your existing home. The right planning, collaboration and creativity can produce ingenious ideas for a successful ground floor addition that perfectly balances functionality with visual impact.
House extensions and renovations give you the freedom to unleash your personality into your home. It can be deeply exhilarating, exciting and addictive to make decisions on everything from the number of bedrooms and type of storage space to the design style of your home.
Spacemaker has numerous repeat clients who have enjoyed the building process so much, they have confidently returned to us to repeat the process when they've moved on to their next home.
Single storey home extensions are appealing for families with young children keen to explore stairs, or with older household members who may find climbing up and down a challenge. Ground floor households can also be more easily adapted for those with mobility or other special needs.
From the first visit with our designer to the final finishing touches on your new space, you can be confident that Spacemaker will handle the entire process efficiently and professionally, always with a friendly personal touch. Our experienced team manages everything from external design, drafting and project management to council approvals.
As a full-service design and construct builder, Spacemaker looks after all planning and building permits and approvals required to start on your home extension or renovation.
Spacemaker is well versed in working with Councils to address planning requirements, including heritage overlays, water sensitive urban design and any specific siting requirements or provisions individual councils may impose.
We have completed home extensions and renovations on many homes impacted by heritage overlays. We are also experts at working with Councils to achieve home extensions that tick all the boxes both in terms of meeting the relevant planning provisions, and most importantly, giving our clients the home they wish for.
When to commence with a single storey extension vs a two storey extension project
The decision around whether to undertake a single storey or a double storey extension is often influenced by a number of factors. This includes your block size, planning constraints, your overall aim for the project and your budget.
Here are some other factors to consider: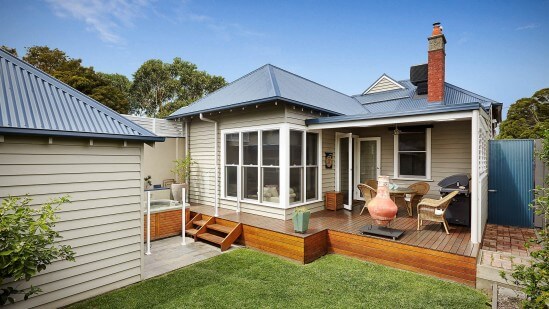 Advantages of a single storey extension
A great option if you want to expand specific zones including your living areas and outdoor entertainment spaces.
Simpler construction.
Usually more affordable.
Typically, there is less engineering work required.
Single storey extension disadvantages
The result will often leave you with less garden space and floor space than a two storey extension.
A single storey extension won't give you as much flexibility to move living spaces around. For example, moving the bedrooms upstairs to allow for more living space downstairs.
On occasion, a single storey extension may result in less value added to your property compared with a two storey extension.
This option may not offer a long-term solution if you are planning to expand your family.
Advantages of a two storey extension
Maximise space, allowing you to extend rooms and also change rooms around.
A two storey extension will provide you with a long term space solution if you are a growing family.
Increase property value.
Extra upstairs space to allow for an office, an extra bedroom or additional storage.
A two storey extension provides the ability to increase the area of your home without sacrificing valuable garden area.
Disadvantages of a two storey extension
Potential complaints from neighbours if the extension affects their light and view.
Local council planning restrictions in relation to height and size limits.
Often involves more engineering, plumbing, electrical and structural analysis to ensure the upper floor meets safety requirements.
Ideas for rear single storey extensions
The possibilities are endless when it comes to rear single storey extension ideas. You may have a specific look you wish to achieve which will influence the design of the extension and materials you use. The objective of the extension will also heavily sway you to a specific style of extension.
Here are some ideas and features to consider:
If you have a large garden area, you could opt for a long rear extension which will elongate the entire depth and rear living area of your home.
Opting for wall-to-wall windows or skylights are a great way to help bathe your home in extra light.
Incorporating bi-folding doors or adding a contemporary canopy to your new extension allows you to add an alfresco dining area where the indoors seamlessly blends with the outdoors.
Adding clever ventilation with louvre style panels could be a creative way to add more air and shade to your home.
Carefully consider the exterior features; using a flat roof in conjunction with steel or timber will add a more modern feel to your home, while a pitched roof with reclaimed bricks can create a more traditional look.
Whatever the reason for your rear single storey extension, Spacemaker will guide you through the process to ensure the design meets your specific needs and wants. For inspiration ideas, browse through our recent projects.
Why Spacemaker
For over 50 years, Spacemaker has been operating as one of Melbourne's most awarded and reputable home renovation and extension builders. It's our specialty and the knowledge and experience we have gained over the years that is invaluable.
We feel privileged to have changed the lives of so many families for the better through creating quality home extensions tailored to meet their lifestyles.
Spacemaker has a talented and dedicated design and construction team that has led the company to winning major industry awards on a regular basis over the past 50 years. Our staff are long term industry professionals who care about you and your goals, and who take immense pride in the final result.
If you are considering a renovation, single storey extension, second storey extension or custom new home, Spacemaker's friendly, knowledgeable design team can guide you through the decision making process.
We meet with our clients over multiple sessions to ensure we listen to and understand your vision. We will provide innovative design ideas to meet your living requirements and budget. The process also includes detailed documentation and extensive site investigations.
With our well-established process, it's our mission to make single storey extensions streamlined and stress free. For greater peace of mind, we also offer genuine fixed prices. This transparency of process means you know exactly what's included (or not) before construction begins.    
Learn more about our simple six step process.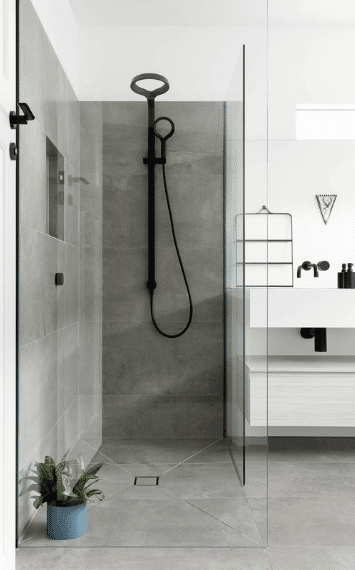 Frequently Asked Questions
No, you do not need an architect for a single storey extension. Some homeowners choose to hire an architect for design ideas, however this is entirely the preference of the client. At Spacemaker, we are full-service design and construction builders, which means you can avoid the cost of engaging an architect. We take care of all design and planning with you to ensure your extension is designed to your budget and achieves the goal you have in mind for you and your family.
The cost of a single storey extension of the home and other related dwellings, including garages, lofts and granny flats, can vary depending on the size, the design and the materials used. We specialise in single storey house extensions starting from $100,000.
Planning permission does not strictly relate to the size of an extension. It can be required for any extension should your local council deem it necessary. Each local government area has their own town planning restrictions, such as heritage overlays or design and development overlays which may require permission to be sought for an extension of any size. We always recommend that you speak with your local council to check planning permission requirements in your area. Land.vic a great resource for finding out more information about planning permits.
Spacemaker offer peace of mind and service you can trust
If you feel a single storey extension could be the right choice for you, the team at Spacemaker are ready to answer any queries you may have.
Our professional award-winning team will provide you with peace of mind in knowing that your new extension will be carefully planned, cleverly designed and expertly constructed in collaboration with your individual needs.
To find out more about the Spacemaker approach to single storey home extensions, contact us today. We'd love to hear from you.